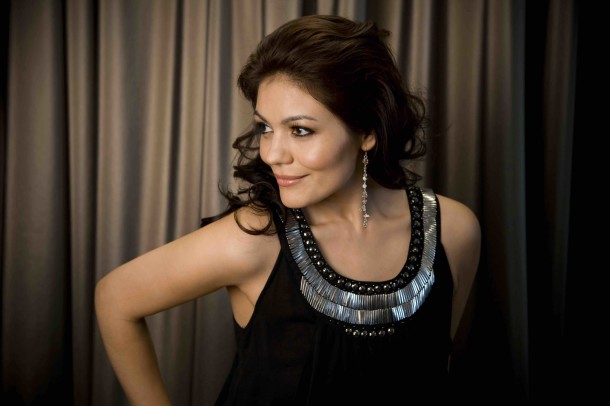 GRAND AND CHAMBER: OPPOSING CONCEPTS
GRAND AND CHAMBER: OPPOSING CONCEPTS
Overwhelming Voice at the NCCO Opener
BERKELEY—-The grand operatic approach can be heavenly with a diva like soprano Ailyn Pérez, who is just back from a starring role at LaScala. But in an intimate church setting as soloist with a small string orchestra, it can misfire.
She tackled an ambitious almost-all-Russian program opening the New Century Chamber Orchestra season Sept. 17.
The rest of the program of snippets and transcriptions was much more promising, though given the huge repertoire for string orchestras, you wonder why all that borrowing and transcription ballast is necessary. Clearly Director/violinist Nadja Salerno-Sonnenberg had again assembled a prime ensemble of mostly women (14 of 19 players) sounding forth in the acoustically inviting environment of the First Congregational Church for this "Letters from Russia" concert. Sneaking in surreptitiously under the Russian curtain were composers Arvo Pärt (Estonian and German) and Jennifer Higdon (American), the latter being the featured composer throughout this 24th season of the NCCO.
Three short Higdon excerpts showed some leaning toward Bartok that I hadn't encountered in her earlier work, which leaned toward very conventional harmonies. Her lively and highly contrapuntal "To the Point" was billed as a "call and response" to quartets of Ravel and Debussy, but reflected no French soupçon of any sort, either in phrasing or harmony.
An unusual and relatively early Shostakovich pairing, "Elegy and Polka," started haunting and lyrical, turning satirical and whimsical in the ensuing Polka, which appeared to have his initials D.S. all over the place.
More Polka came from the late Soviet émigré Alfred Schnittke in the night's encore, a rambunctious romp in which both Salerno-Sonnenberg and violist Anna Kruger could emote in their most theatrical and ironic modes.
Arvo Pärt, 80, may be the most recognizable composer musically active today, basing even his instrumental pieces on liturgical music drawn from the Orthodox Liturgy and chants. Like so many of his pieces, the 13-minute "Trisagion" is soft, slow, serene and contemplative, at once the simplest music, based mostly on a minor-key triad, and at once the most moving. The work then opens up exultantly, with high strings offsetting a strong bass line.
With eyes glued to the score, Soprano Pérez sang Rachmaninoff's wordless, tender "Vocalise" as if challenged to fill a 4,000-seat hall before her. She followed with the great, insightful Letter Aria from Tchaikovsky's opera "Eugene Onegin," capturing its multiple emotional nuances.
This "home-grown" former Adler Fellow at the S.F. Opera has made huge strides, with a powerful spinto voice, warmth of tone, and engaging manner. But how could she have so misjudged these two works?
New Century Chamber Orchestra opening its season Sept. 17, 1st Congregational Church, Berkeley, then on to Palo Alto, San Francisco and San Rafael through Sept. 20. For info: (415) 392-4400 or go online.
©Paul Hertelendy 2015
#
Paul Hertelendy has been covering the dance and modern-music scene in the San Francisco Bay Area with relish — and a certain amount of salsa — for years.
These critiques appearing weekly (or sometimes semi-weekly, but never weakly) will focus on dance and new musical creativity in performance, with forays into books (by authors of the region), theater and recordings by local artists as well.
#