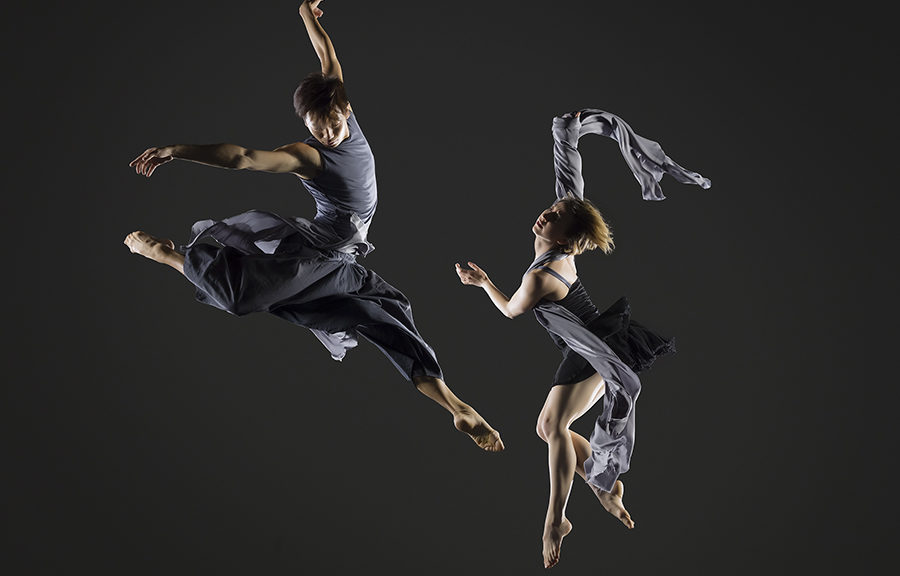 GARRETT-MOULTON'S LIVE CONSTELLATION OF DANCE
GARRETT-MOULTON'S LIVE CONSTELLATION OF DANCE
The Biggest-Little Show, Complete with Singers, Musicians
By Paul Hertelendy 
artssf.com, the independent observer of San Francisco Bay Area music and dance 
Week of July 29, 2016
Vol. 18, No. 80
The dance group Garrett + Moulton puts on an admirable spectacle, bringing forth yet another local ensemble investing heavily in multi-dimensional live dance theater.
G&M's "Speak, Angels" spotlights six dancers, seven instrumentalists, five singers, plus a unique 18-member "movement group" in a tightly organized, fast-flying, hour-long concert. The nimble movement group, as well organized as any drill team, combines a blur of whipping, shifting arms moving in unison with occasional runs about the stage abetting the barefoot dancers, who have clearly had a strong ballet background. In these animated dances created jointly by Janice Garrett and Charles Moulton, you marvel at the aggregation's avoiding head-on collisions as they whirl about the YBCA stage, which was  bursting with 36 live performers at the July 28 opening.
All this is backed by  a live musical cornucopia from  four composers. Altogether, this is arguably the biggest show by the smallest on-going dance company in SF. Now in its ninth year here, Garrett-Moulton keeps outdoing itself annually. Their style is explosive, with the six nimble dancers who are seemingly tireless.
The sextet is marked by contrasting female forms. The petite, blond Alison Adnet showed acceleration with the male partner,  tossed up in the air with abandon; at the other extreme, in Mahler's ethereal "Urlicht" lied (from the Second  Symphony), she did a love dance of consummate beauty.  The willowy Caroiina Czechowska , the tallest of the 3,  did nonstop solos  of high energy spread around the stage, with sequins flying. And Vivian  Aragon, in black-and-white checkerboard outfit matching her partner's, suggested a Latin temperament.
Garrett-Moulton produced human pyramids too. But their memorable touch was having a prone man and female carried high above, as if swimming toward one another. Tumbling, acrobatic and cheerleading routines are sidelines in which all their dancers are expected to be comfortable.
The 65-minute-long show was a mite too short. But the huge amount of work and coordination that went into this world premiere allowed little extra time for a companion piece to serve as curtain-raiser.
Holding the music together in the back row upstage was Jonathan Russell, giving a straight-elbow beat when not playing his  bass clarinet.
The dance group Garrett + Moulton' world premiere "Speak, Angels," July 28-31, with live music and singers. Yerba Buena C.A. Theater, San Francisco. For info: (415) 864-6716, or go online.
©Paul Hertelendy 2016
#
Paul Hertelendy has been covering the dance and modern-music scene in the San Francisco Bay Area with relish — and a certain amount of salsa — for years.
These critiques appearing weekly (or sometimes semi-weekly, but never weakly) will focus on dance and new musical creativity in performance, with forays into books (by authors of the region), theater and recordings by local artists as well.
#