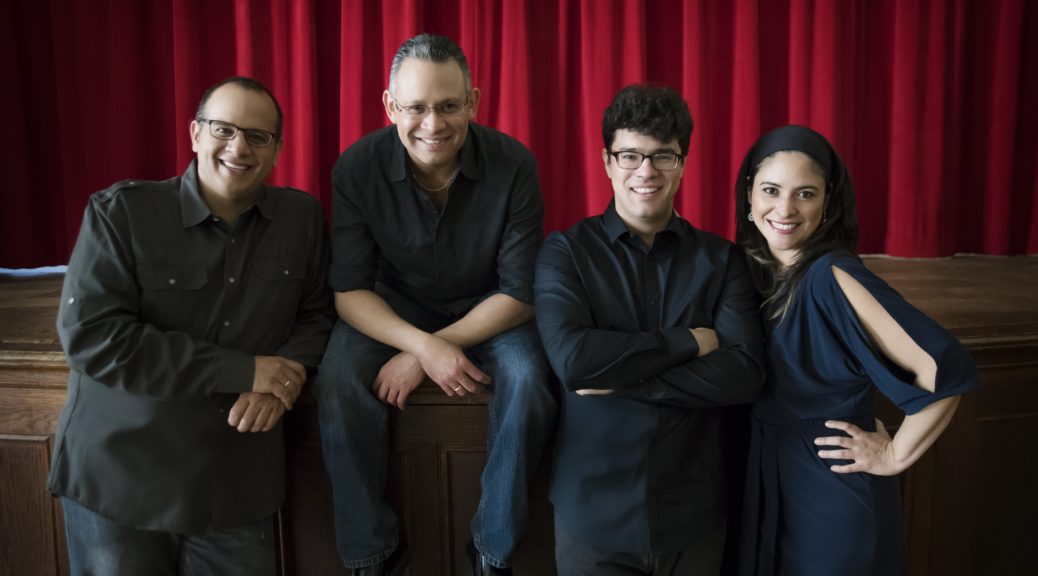 THAT FORMIDABLE MOZART CLARINET QUINTET
THAT FORMIDABLE MOZART CLARINET QUINTET
Dali Quartet Linked with Virtuoso Ricardo Morales
SAN JOSE—Most orchestras have a No. Two conductor/consultant. Chamber groups have no such luck.
The orchestra can send the #2 around during rehearsals, hear from the audience side, and judge whether all the balances between sections are good. The Dalí String Quartet from Philadelphia could use a similar sonic consultant to get optimum outcomes.
They played a novel program here Oct. 25, pairing up with a stellar clarinetist, Ricardo Morales, principal in the Philadelphia Orchestra, for Mozart's unforgettable Clarinet Quintet in A Major. Morales played out strongly, assertively, deftly——-but he played out, making the Dalí foursome sound like so much accompaniment, not a true ensemble. For those at the Trianon Theatre hoping to savor a rare chance to hear this chamber masterwork, it was a downer. Morales' misjudgment was understandable: Playing with his usual group in a large hall, and previously in the Met Opera pit orchestra in an even larger hall, he HAS to play out to be fully audible.
Morales brings supreme polish to the table—clean play, agility, fine phrasing. And the work caught Mozart at his late-period best in an unaccustomed interplay. Most striking was his innovation of an added Trio in the middle of the Minuet movement. The two trios contrasted markedly. The first flips unexpectedly into a heavy-hearted minor mode, almost a lament, while the second might as well be a whimsical birdcall, a charming interlude with rising figures.
Also we encounter a mystery: the cello in Mozart's life. Repeatedly the cello pops up with choice solo segments, suggesting that the instrument was close to Mozart's heart—and his passion. Yet curiously, unlike Haydn, never wrote a cello concerto or cello sonata, even though he wrote big solo pieces for horn, violin, piano, flute, even harp. Was it a lack of a virtuoso at hand, like his clarinetist Stadler? Or simply a lack of a commission, or a patron that loved the deep-voiced instrument?
As the Dalí players are Latino and mostly Venezuelan, it was natural to devote most of the program to (bygone) Latin composers, with an emphasis on Latin Lite. These were primarily of the pops-concert genre, drawing on popular music, like the tango great Carlos Gardel's "El dia que me quieras" (The day That You Love Me) arrangement, with the cello playing the typical tango-bandoneon rhythm part.
The disappointment was the String Quartet No. 1 by Heitor Villa-Lobos (1915, 1946). Despite the title, it's really a suite of ardent songs and dances. I found much meatier the brief "Angelica" of Efrain Amaya, full of jaunty syncopation and multiple changes of pace.
The Dalí players, who are home-based in Philadelphia, demonstrated a lot of individual spirit in bringing an unusual repertoire to open the 30thseason of the San Jose Chamber Music Society. They are products of the renowned Venezuelan El Sistema, the system of music education that also gaved us super-conductor Gustavo Dudamel. The Dali personnel, from the top, are Guillaume Combet, Carlos Rubio, Adriana Linares and Jesus Morales.
QUARTETS VOTING—In deciding questions of interpretation, string quartets are apt to end up with a 2-2 vote and an unresolved stalemate. The fabled Budapest String Quartet of the mid-20th century had a solution for that: In each rehearsal, a 5th vote was given to one player, representing which way the composer would have preferred it. And the 5thvote rotated through the ensemble at each set of rehearsals, establishing total democracy. I have however never encountered another quartet using that practical method of solution. But I'd welcome notes from any quartet as to how they handle the 2-2 ties.
The Dalí String Quartet opened the 30th season of the S.J. Chamber Music Society, Trianon Theatre, San Jose, Oct. 25. For info on future SJCMS concerts: (408) 286-5111, or go online.
©Paul Hertelendy 2015
#
Paul Hertelendy has been covering the dance and modern-music scene in the San Francisco Bay Area with relish — and a certain amount of salsa — for years.
These critiques appearing weekly (or sometimes semi-weekly, but never weakly) will focus on dance and new musical creativity in performance, with forays into books (by authors of the region), theater and recordings by local artists as well.
#