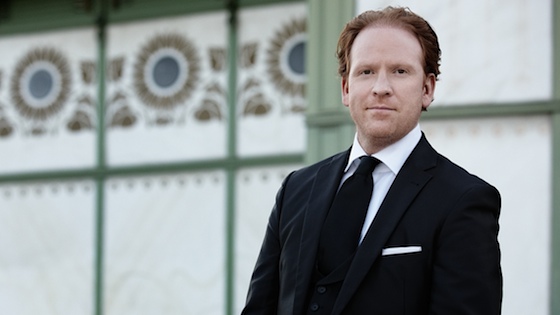 AN EXEMPLARY PROGRAM BY ENGLISH VIOLINIST-LEADER DANIEL HOPE
AN EXEMPLARY PROGRAM BY ENGLISH VIOLINIST-LEADER DANIEL HOPE
PALO ALTO—The visiting English violinist Daniel Hope is not only a stylish leader, but he brings along a palpable magnetic personality and a stimulating program spanning three centuries that puts competing groups to shame.
His week as guest leader of the New Century Chamber Orchestra brought on four moderns, offset against the usual Bach-Vivaldi standards.
And at the midpoint, he played that OTHER Mendelssohn Violin Concerto you haven't heard, and he made a very strong case for it.
In sum, a great program, a great concert set, and a lot for us to chew on afterward headed home through the chilly night.
His appearance and rapport with the 17-member all-string NCCO also suggests that prospects for finding a replacement leader should be excellent, given Directress Nadja Salerno-Sonnenberg's intent to move on to other challenges in another couple of years.
The NCCO group is in its top form these days, and the rapport, even with strangers coming out of the mist, is powerful.
Of the four modern composers, the least familiar was the Lebanese-French Bechara El-Khouri, 58. His "Unfinished Journey" was a memorial tribute to the late violin master Yehudi Menuhin, some seven minutes of modal music straddling the east-west divide, at times meditative, at timespassionate, and consistently evocative. Hope played virtually nonstop.
Less imposing was the two-minute study in softness "Darf ich" (Might I?) by the mystic and monastic Arvo Paert. Distinctive mostly for the addition of occasional tubular bells suggesting church. Toru Takemitsu's "Nostalghia" was a study in enigmatic disorientation, as mournful a piece as you'll ever hear, drifting on a foggy course with a heart as heavy as lead.
Hope played these with a lot of body English, constantly making eye contact with the fellow performers, leading with the violin, not baton, like oldtime masters.
As for the other Mendelssohn, this in D minor unlike the well-known E minor one, it's a beauty—spirited, sparkling, compelling, mature. It's hard to believe that the composer wrote concerto for strings this at age 12 (!). Hope had demanding solos to carry off, then launching into a contrasting Hungarian-style czardas dance in the finale, as if he were a gypsy fiddler. The slow movement has a theme for the soloist, later echoed octaves further down by the bass—deucedly clever! Hope did the cadenzas like a true believer, adding soulful touches.
Clearly, this opus deserves a much wider airing; perhaps Hope could record it back home in England.
Familiar fare came with Bach's Two-Violin Concerto in D minor, a similar Vivaldi in A minor, and some Romanian dances by Bela Bartok.
The concert was in memory of Menuhin (1916-1999), a local figure from Alma here in Santa Clara County as well as San Francisco. After his child-prodigy stage, he premiered many concertos, linked up with Asian musicians in novel east-west concerts, and was a spokesman for international peace from his later home in England. He had also invited an 11-year-old Daniel Hope to play duos with him on German television.
The personnel of the all-string NCCO consist of 14 women and three men, this time playing standing up like the court orchestras of the 18th century. They are an unmitigated joy to hear.
New Century Chamber Orchestra with Daniel Hope, in four S.F. Bay Area cities through Feb. 7. For info: 415-357-1111, or go online.
©Paul Hertelendy 2016
#
Paul Hertelendy has been covering the dance and modern-music scene in the San Francisco Bay Area with relish — and a certain amount of salsa — for years.
These critiques appearing weekly (or sometimes semi-weekly, but never weakly) will focus on dance and new musical creativity in performance, with forays into books (by authors of the region), theater and recordings by local artists as well.
#