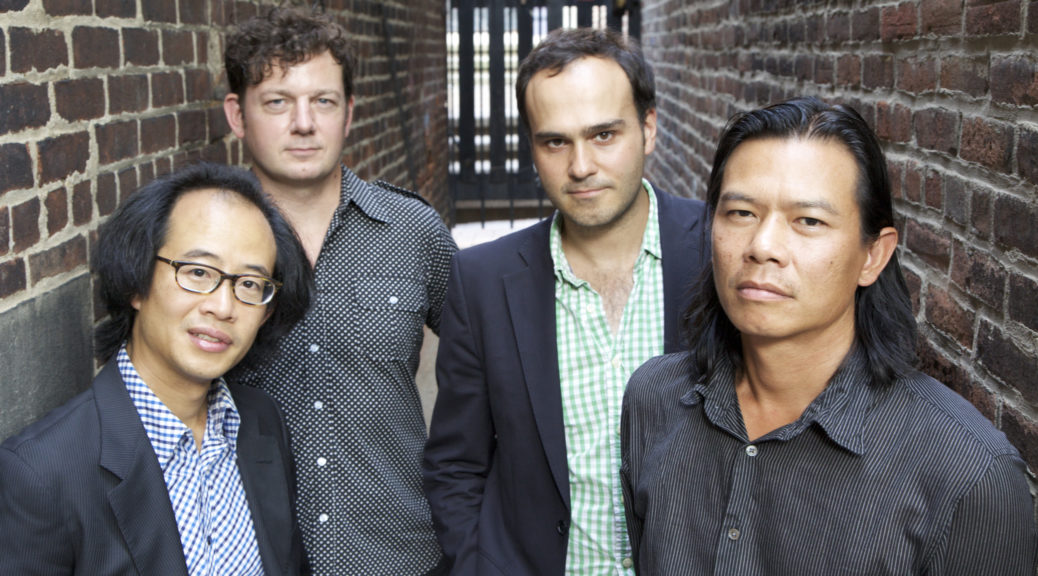 EMERGING YOUNG CHAMBER-MUSIC COMPOSERS
EMERGING YOUNG CHAMBER-MUSIC COMPOSERS
Trial by Fire in Santa Fe
SANTA FE, NM—On your high shelf labeled "significant ensembles I've never heard of," save a good spot for the Flux Quartet, which has introduced more than 100 new works to our string-quartet repertory.
They played the Santa Fe Chamber Music Festival, a humming summer-long enterprise with dozens of concerts, each with its own character, manned by diverse quality players from all over.
Your yen for contemporary sounds would have drawn you Aug. 7 to hear this adventurous foursome of dedicated thirtysomething men introducing new names and sounds, as is the FQ's tradition. While none of these youngish composers stood out visibly ahead of the competition, they differed nicely in style, representing both coasts, in the 24-36 age group.
The keystone was the commissioned world premiere, the two-movement String Quartet No. 2 by the Nevada composer Sean Shepherd, 36, a work aiming him back toward the West Coast after stints with both the N.Y. Philharmonic and Cleveland Orchestra.
Shepherd embodies none of the scatter-shot Fluxus (multi-arts) Movement after which the foursome is named, but he's inventive and professional. Over the 14 minutes his music traces a lot of taut and energetic escapades, somewhere in the space between Bartok and John Adams. He offers intriguing interactions between pizzicato and bowed notes, and he searches out enigmatic new chords.
The last movement is a work of many moods, with frequent gear shifts and muted will-of-the-wisp flights of fancy. Both movements end with inscrutable fadeouts.
The other composers offered shorter works with subtitles, suggesting programmatic music. Katherine Balch, 24, from San Diego offered up night-music in her "Within Each Breathing" String Quartet—mysterious, muted, darting, fleeting, the sort of ethereal composition that larger audiences would be drawn to. She spins a beautiful haven of tranquility, with ear-catching chords and aphorisms, sometimes punctuated by bow-taps.
New Yorker Max Grafe, 27, produced his String Quartet No. 1, "comment apercevoir les dessins de rêve" (How to Perceive the Images of Dreams). Yes, he is visibly influenced by French music, and Debussy in particular. He is taken by restless tremoli and pregnant silences, mixing serenities with taut attacks.
The audience of 100-plus received the three composers warmly, after which they exited happily together (!) toward some New Mexico eatery that might light peppery fires within both the belly and the mind.
The anchoring opus on the program was by the veteran Israeli Gideon Lewisohn, 61. His half-hour-long "Odradek" Quartet was inspired by Kafka's short story "Cares of a Family Man," which contained a mystery entity or object called Odradek. The concept is more interesting than the music itself, which is largely self-referential, mentioning many composers that Lewisohn has known or admired, such as his composer-teacher Josef Tal (1910-2008).
Lewisohn has created a 15-part suite that is almost as enigmatic as Kafka, with the epigrams diverting in all directions, running through varied emotions, from aggressiveness to passivity, from mourning to gentleness, with mood swings between. It ends with unresolved cello pulses, likes ticks of the inexorable cruel clock that refuses to allow us more time with our thoughts and ambitions.
The Flux players, headed by Tom Chiu, were cohesive, disciplined, agile, accurate—-and fearless!!! If you gave them any score of your choice and turned it upside down, they could probably play it credibly either way.
Santa Fe (NM) Chamber Music Festival presenting the Flux Quartet in modern works Aug. 7, at the St. Francis Auditorium, Santa Fe. For SFCMF info: (505) 983-2075, or go online.
©Paul Hertelendy 2015
#
Paul Hertelendy has been covering the dance and modern-music scene in the San Francisco Bay Area with relish — and a certain amount of salsa — for years.
These critiques appearing weekly (or sometimes semi-weekly, but never weakly) will focus on dance and new musical creativity in performance, with forays into books (by authors of the region), theater and recordings by local artists as well.
#