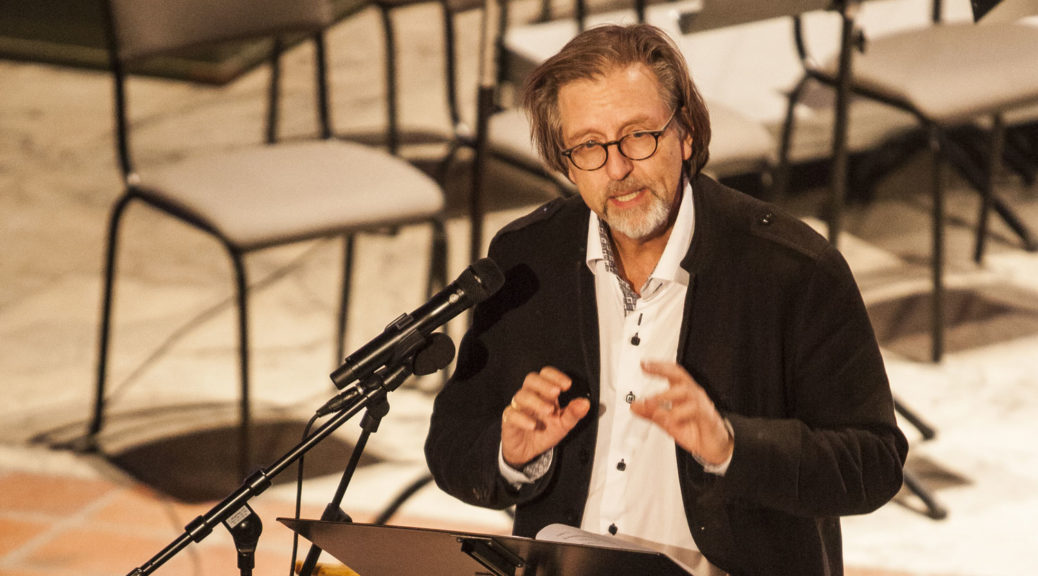 DIGGING UP NEW MUSIC, DIGGING UP AN OLD POPE
DIGGING UP NEW MUSIC, DIGGING UP AN OLD POPE
Other Minds in Unusual Vocal Music
Zounds! A contemporary concert takes up sacred music along with a satirical work highly critical of Church history. If you hate the one, you might LOVE the other!
Such was the opening event of the unique Open Minds festival, which brings in close to a dozen living composers for residencies and three tightly-packed concerts over three days—then often goes dormant for another 364. It's a dizzying, high-quality whirl that can and should attract a much wider audience than the gathering March 3 at the acoustically vibrant SF Jazz Center.
The concert put on display an a cappella vocal group from Europe called Nordic Voices, an exceptional Norwegian ensemble as dazzling as the Swingle Singers of old, and just about as versatile. The three women and three men without conductor exhibited an amazing sense of rhythmic unity and true pitches most of the way, along with a variety of effects and textures worthy of study. Their lucid enunciation of text put to shame most of our own choruses around here.
The sensational work in the mix was the historical "Dead Pope on Trial," based on the "cadaver synod" of Pope Formosus, who died in the year 896. Intense political rivalry within the Church prompted his being accused, exhumed then put on trial in a bones-only appearance. In a very crude form of justice, he was found guilty without mounting a defense, his body mutilated and decapitated, then thrown into a river—all of it twice over, according to one account. (But what if the court had found him guilty and ordered a life sentence???)
All of this is reeled out in this 23-minute choral world premiere by composer Cecilie Ore, 61. This narrative makes for grand and comic satire in English, delivered with exaggerated delicacy. Ore produces many changes of pace, sometimes scrambling the texts and highlighting the contrasts: Showing the sanctity of Formosus' (last) burial in St. Peter's, offset against the ludicrous trial and retrial of a skeleton as defendant in court, as ordered by later popes.
Even more impressive was the "Himmelske Fader" (Heavenly Father) prayer by Lasse Thoresen, 66. He offered dense, complex harmonies as well as 15th-century faux bourdon effects (where the 3rd degree of triads is missing, giving a 'hollow' feeling to the music). The voices even produce hurdy-gurdy textures (!), and at times soft whistles—a compendium of very new and very old. The piece is haunting, at times giving us an intriguing blend of overtones.
Recorded recitations by the late Beat poet William Burroughs, who may or may not have been under the influence of controlled substances when he recorded the repetitive text, were the highlight of Phil Kline's "Last Words," with perfunctory string-quartet accompaniment. Michael Gordon's "The Sad Park" also involved recordings, but of innocent young children talking about the 9/11 destruction of the Twin Towers in New York. And an overly generous clutch of Petrarch sonnets had been set, in Italian, by Gavin Bryars, 73, from England.
The remaining concerts in this 21st Other Minds fest unfolded the successive days, again with a vocal emphasis.
Other Minds festival No. 21, Charles Amirkhanian director, at the San Francisco Jazz Center March 4-6. For info on OM: Go online.
©Paul Hertelendy 2016
#
Paul Hertelendy has been covering the dance and modern-music scene in the San Francisco Bay Area with relish — and a certain amount of salsa — for years.
These critiques appearing weekly (or sometimes semi-weekly, but never weakly) will focus on dance and new musical creativity in performance, with forays into books (by authors of the region), theater and recordings by local artists as well.
#