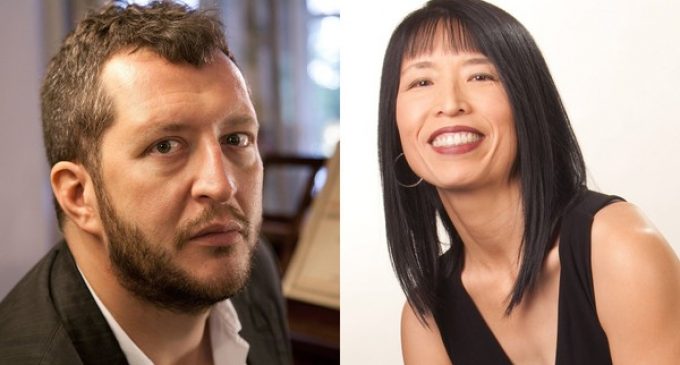 DAZZLING RHYTHMIC INTRICACIES
DAZZLING RHYTHMIC INTRICACIES
Cheng-Ades' Two-Piano Tour de Force
One of the masters of modern rhythmic complexity, Thomas Adès, paired up with Gloria Cheng for a 20th-century two-piano recital that still has my ears ringing. Their percussive repertory, delivered with muscular dispatch, offered more than 100,000 notes that may still be resonating through the facility, leading me to marvel at the dynamic pair's sheer immunity to fatigue.
None of their music is easy to play, or even to listen to. But the tour de force of this duo was a jaw-dropping affair for any committed listener.
Their joint effort gave an opportunity for the good-sized audience to evaluate Herbst Theatre, which has been shut down for two years of renovations.
Now the seating area of the inviting hall (located next to the S.F. Opera) is little changed, apart from elevated side boxes jutting out more prominently. But for the performer, it's a whole new game, with expanded wing space, and dressing rooms now down on the stage level, and a new green room too. The seating capacity is 890—just right, for most of the S.F. Performances presentations.
In most two-piano recitals, Bartok's challenging Sonata (1938) is the tip of the iceberg, if essayed at all. For Adès-Cheng, that's a oldie, a benchmark too ancient to consider. Instead they reeled off Nancarrow, Ligeti, Adès and Messiaen, coordinating each other across the grand pianos with little more than a nod here and there. That they were together at all seemed miraculous.
The Englishman Adès of course is well known here, both as pianist and composer (especially the comic opera "Powder Her Face"); the American Cheng meantime has credentials playing the contempo scene from Los Angeles to the East Coast. They are a study in contracts, particularly in attire, where their sartorial consultants may not speak the same language at all—Cheng coming in a floor-length formal, and Adès in black jacket and open-neckline shirt.
And yet the two meshed admirably, taking turns playing the number one instrument.
Adès made a singular contribution arranging Nancarrow's "Studies No. 6 and 7" from piano rolls to keyboards. Nancarrow only made piano rolls, producing both rhythms and chords beyond a human's physical ability. By his arrangements, Adès was able to add dynamics and nuance to the pieces well beyond the original; it is like going suddenly from two dimensions to three. If you thought one performer was always striking the keyboard a bit early or a bit late, forget it; that's the way it is, in rhythmic complexities wherein Adès revels.
Adès' Concert Paraphrase on 'Powder Her Face' was less rewarding. It is a rather severe continuum of relentless sound, with eclectic touches new and old, and abrupt chords for comic effect, even for a hint of insanity.
Ligeti's brief little "Sonatina," only six minutes long, was the closest to conventional, ranging from a jaunty opening to cathedral-like solemnity, all compressed into just six minutes.
I find Messiaen's religious music for keyboard baffling. An intensely religious man and avid bird-watcher, he poured both passions into his 53-minute-long (!) "Visions de l'Amen," a severe percussive piece whose outpourings of faith elude me. There are chameleon-like shifts of mood, and at times fists that must strike the keyboard. But apart from chords suggesting deep-throated church bells, I find the Christian faith within Les Visions to be an arcane and elusive exercise.
But the audience, much of it senior citizens, loved it, giving it a standing ovation. And who still believes that seniors can't stand modern music?
Overall in the concert, Adès brought power and rhythmic acumen to the forefront, while Cheng elicited more of the lyrical moments.
San Francisco Performances, Oct. 30. Various presentations at Herbst Theatere and elsewhere. For info: (415) 392-2545, or go online.
©Paul Hertelendy 2015
#
Paul Hertelendy has been covering the dance and modern-music scene in the San Francisco Bay Area with relish — and a certain amount of salsa — for years.
These critiques appearing weekly (or sometimes semi-weekly, but never weakly) will focus on dance and new musical creativity in performance, with forays into books (by authors of the region), theater and recordings by local artists as well.
#