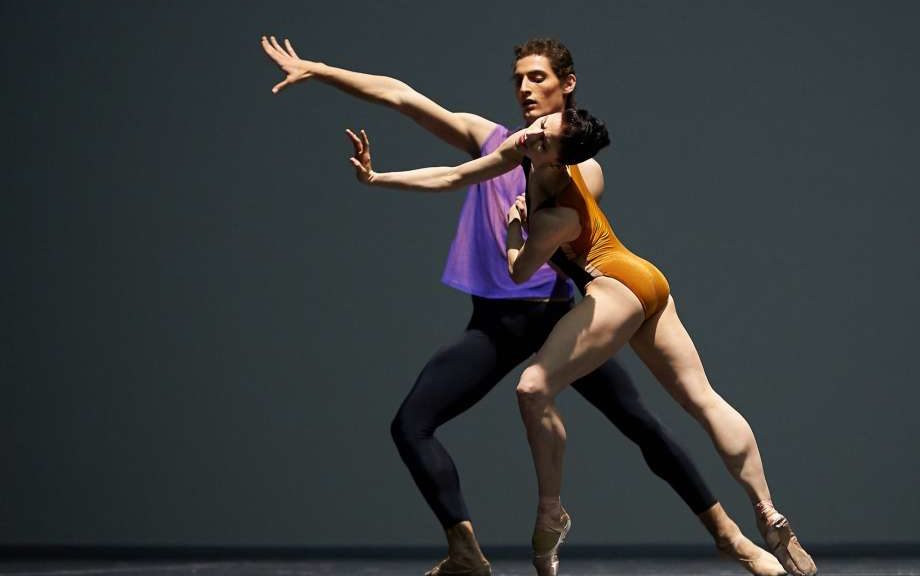 A DANCE-TILL-YOU-DROP PREMIERE
A DANCE-TILL-YOU-DROP PREMIERE
By D. Rane Danubian
artssf.com, the independent observer of San Francisco Bay Area music and dance
Week of Jan. 29-Feb. 5, 2016
Vol. 18, No. 42
The new Forsythe ballet is like a 1,800-second group max-out-workout regimen at the gym, to see which dancer would drop first.
No one did, happily. Only that at the end I left my Row N seat feeling totally exhausted.
Modernist William Forsythe, an expat who has enjoyed a huge career in Europe, is presenting his "Pas/Parts" work at the S.F. Ballet, evoking Sisyphus far more than Fokine or Nijinsky. Set on a large barren stage devoid of décor, it has close to a dozen spidery performers come out in small groups or solos to kick, thrust, dash, and gesticulate energetically until they drop. All to a first-rate electronic score by Thom Willems.
And about 10 percent of the visible Opera House audience gave it a standing ovation Jan. 28—either for Forsythe, or for the endurance of the dancers, the way you offer "Jolly-good-show-chap" plaudits to the depleted finisher of a marathon.
The dancers evidently relished the challenge, battling to get into the cast; most of the SFB stars were in it, often in minor assignments. This was no European repackaging; Forsythe had recreated three-quarters of it for the SFB since its 1999 Paris launch.
The rest of the program offered much softer landings. Yuri Possokhov's "Magrittomania" (2000) tries hard to be funny and whimsical and surreal like the Belgian painter Magritte himself, occasionally with success. The designs by Thyra Hartshorn use nonsequitur Magritte images like the giant apples floating in space, or the balloons in place of faces, plus the mandatory black bowler hats atop most of the dancers. Dancing in suits and civvies, the men never appeared incongruous, and their mobility was not compromised; it was just madcap Magritte coming back to life nearly a century later, enlarged and fast-moving too.
It was accompanied by much-adulterated Beethoven excerpts, some of them unrecognizable.
Helgi Tomasson's "Seven for Eight" revival was as close as he ever seems to get to sensual ballet, with various couples dancing to Bach excerpts. It was a rare chance to see a soaring solo by Joan Boada, who retires after this season, as well as attractive pairings of Mathilde Froustey with partner Tiit Helimets.
San Francisco Ballet at the Opera House Jan. 28 in Program One, through Feb. 3. For info: (415) 861-5600, or go online.
©D. Rane Danubian 2016
#
D. Rane Danubian has been covering the dance and modern-music scene in the San Francisco Bay Area with relish — and a certain amount of salsa — for years.
These critiques appearing weekly (or sometimes semi-weekly, but never weakly) will focus on dance and new musical creativity in performance, with forays into books (by authors of the region), theater and recordings by local artists as well.
#