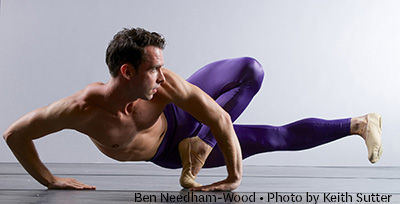 DANCE INSPIRED BY WRITERS
DANCE INSPIRED BY WRITERS
Smuin Ballet Pursues a New Tack in Premieres
By Paul Hertelendy
artssf.com, the independent observer of San Francisco Bay Area music and dance
Week of Sept. 19-26, 2015
Vol. 18, No. 15
WALNUT CREEK, CA—Inspiration from writers is the driving force behind two arresting premieres offered by the stylish Smuin Ballet to open its 22nd season.
As always, the 16-member company offers an array of extra limber dancers, athletic, yet unified in closely coordinated group moves in a chameleon mix of styles linking modern ballet, modern dance and a bit of Broadway too, much as its founder had done.
The new works were a surprise. The psychologist Abraham Maslow, probing inside the mind of a man searching for the true self, inspired Ben Needham-Wood's 10-minute modern-dance piece "Maslow." Here Robert Kretz is an everyday man in his easy chair, conjuring up a spirit-self (Terez Dean) in an elaborate interplay, with uncertainty who is manipulating whom—a concept comparable to that oldie, "Invitation to the Dance." Their pas de deux is elaborate and acrobatic, demanding the max of the heavily muscular Kretz.
Then the ubiquitous Amy Seiwart unveiled her large-scale, 24-minute opus for eight couples, "Broken Open," citing writer Neil Gaiman on the elusiveness of creativity in literature—an elusiveness that choreographer Seiwart admits hit her as well in creating the dance, though you wouldn't know it.
There was no dearth of high energy, pretzel-whipped bodies, sharp-edged gesture or varied movement in the work, providing a strong and fitting capstone to the evening at the Lesher Center.
The mandatory work by the late choreographer-founder Michael Smuin was "Bouquet" (1997), showing off the tireless Erin Yarborough-Powell, a leading lady in Bay Area ballet for close to two decades. She can still produce the romantic interludes and thought-provoking pauses in her classical ballet, happy to say, bringing to bear a keen musical sense. She is that rare figure who can radiate feelings, not just speed and agility. If the work resembles the famous 19th-century "Rose Adagio," with multiple swains, at least Smuin never included the offering of a rose.
The program opened with the lively, flashy "French Twist" (2010) by Ma Cong, an irreverent amusement for the whole cast with fast pace and lot of sassy hip swings.
All the music was prerecorded.
Smuin Ballet opening program at the Lesher Center, Walnut Creek, Sept. 18-19, going on to Mountain View and San Francisco, concluding Oct. 4. For info: (415) 912-1899, or go online.
©Paul Hertelendy 2015
#
Paul Hertelendy has been covering the dance and modern-music scene in the San Francisco Bay Area with relish — and a certain amount of salsa — for years.
These critiques appearing weekly (or sometimes semi-weekly, but never weakly) will focus on dance and new musical creativity in performance, with forays into books (by authors of the region), theater and recordings by local artists as well.
#