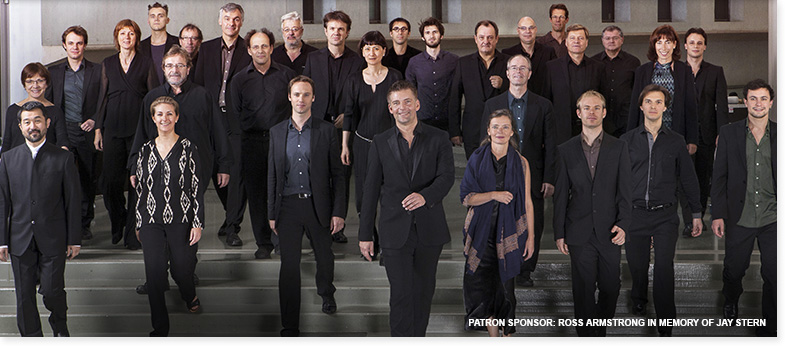 CONTEMPORARY GALLIC-BERKELEY LINKAGE
CONTEMPORARY GALLIC-BERKELEY LINKAGE
Parisian Ensemble Visits the West Coast
BERKELEY—An earth-shaking, all-contemporary, all-imported concert was saved with two ensemble pieces offering real music, not just sonic experiments.
For the first time since its founding in 1976, Pierre Boulez's renowned Ensemble Intercontemporain came to Cal from Paris, borrowing a good many percussion instruments from the university for the occasion. For Cal Performances, the booking marks a milestone.
Musicians from Paris, yes, but only one of the four composers, Franck Bedrossian, was French. Ascribe it to the increasingly international nature of music-making. Regardless, the Intercontemporain has prided itself from the start as an international melting pot with a strong pan-European streak. And the Paris-Berkeley links were emphasized with two of the five composers performed now serving on the music faculty here.
If indestructible Hertz Hall was knocked off its foundations and was last seen sliding into the Bay miles away, blame it on the violent tremors rocking our seats Nov. 6 in Edmund Campion's "Cluster X." Its strong blasts of brass immediately signaled us to tighten our seat belts and grab any nearby foundation stone.
This 24-minute piece de resistance may be inspired by the wild chaos of the galaxies. This fascinating triple play is an elaborate and ambitious multimedia piece, having a score of live performers and Campion's score sharing the spotlight with Kurt Hentschläger's earth-shaking electronics and video images. The effect was intoxicating, even visceral and disorienting, with Campion's effusive sound continuum as insistent as a long-distance express train. The sounds tumble atop one another, helter-skelter, full of pulses and repetitive patterns.
Would some one go over and check the Berkeley seismograph, NOW?
Hentschläger's abstract and fast-shifting videos meanwhile suggest knots of figures in black-and-white perhaps lost in space long ago, whirling, falling, flickering, detaching. As the audience slowly settled back to earth for ovations, mopping a brow or two, both artists took bows on stage in this US premiere event.
No question, the 21-member Intercontemporain had made its impact in this long-awaited Berkeley debut.
A comparable vein, without the video or electronics, emerged in the ensemble piece "linea dell'orizzonte" by the Swiss composer Beat Furrer. Furrer and conductor Matthias Pintscher maintained a strong rhythmic emphasis, characteristic of the ensemble's 90-year-old patriarch, composer-conductor Pierre Boulez. Furrer explores the frontiers of sound, with furious dissonances, clashes of clarinet and trumpet, and sonic swoops over the lowest and highest ranges of the instruments. It's spasmodic in its stop and go, but coherent and quite musical in its melismas, finally bowing out with delicate rivulets of distant sound.
Also featured were experiments in sonic colors (an important ingredient of Boulez's IRCAM labs) via Marco Stroppa's French-horn duo and a quartet of deep-throat instruments from Franck Bedrossian. Better suited to the sound lab than the concert hall.
MUSIC NOTES—Both Bedrossian and Campion currently serve on Cal's music faculty…Cal Performances' presentation of modern music continues in Jan. with the visit of the St. Louis Symphony, for the first time linking Messiaen's 90-minute "Des Canyons aux Étoiles" (From the Canyons to the Stars) with photo projections from the Utah national parks that were the music's inspiration.
Ensemble Intercontemporain from Paris in Berkeley debut, contrasting programs Nov. 6 and 7 at Hertz Hall, U.C., Berkeley. For Cal Performances info: (510) 642-9988, or go online.
©Paul Hertelendy 2015
#
Paul Hertelendy has been covering the dance and modern-music scene in the San Francisco Bay Area with relish — and a certain amount of salsa — for years.
These critiques appearing weekly (or sometimes semi-weekly, but never weakly) will focus on dance and new musical creativity in performance, with forays into books (by authors of the region), theater and recordings by local artists as well.
#