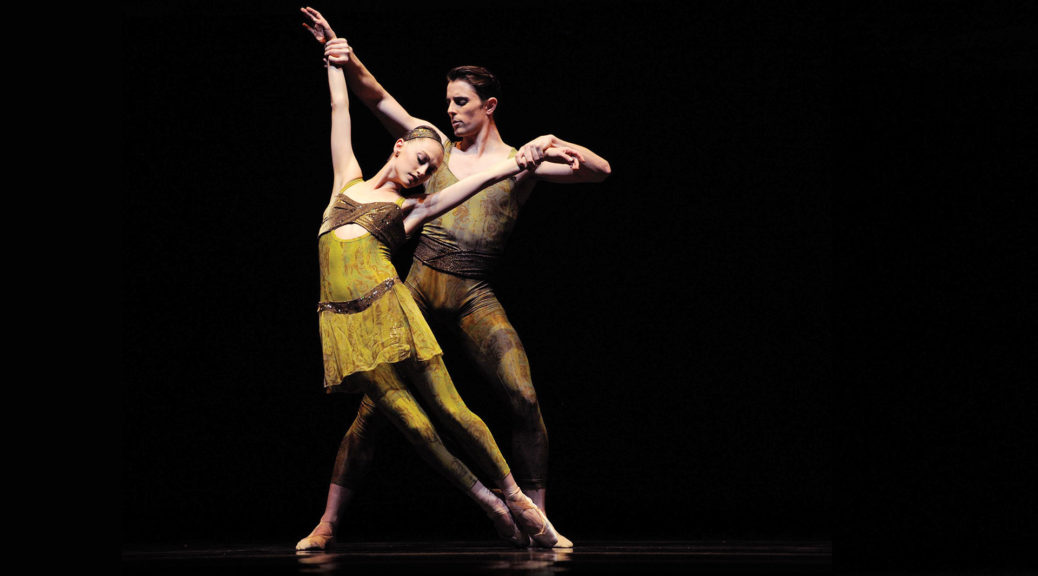 CONFLICT AND RECONCILIATION IN ARRESTING NEW BALLET
CONFLICT AND RECONCILIATION IN ARRESTING NEW BALLET
San Francisco's own Myles Thatcher has created a new genre of conflict ballet with his world premiere, "Ghost in the Machine," stealing the attention at the San Francisco Ballet.
Thatcher, a young dancer in the SFB corps de ballet—the legion of overlooked spear-carriers in the stratified ranks of a huge troupe—has produced yet another highly effective choreographic opus combining modern (non-balletic) techniques, toe-shoes conventions, and a considerable story line. Much of his expanded ballet vocabulary draws from modern-dance traditions, where rebellious individuality and battle modes are much more common than in ballet.
The imaginative Thatcher breaks all the rules in his half-hour opus. He has dancers walking and shuffling across the Opera House stage. He has them reclining at the stage lip, forming bookends for the others in action. He has lines passing along hugs. There are odd lifts, with the players all knotted up, somehow getting unknotted without injury.
The story deals with conflicts of a woman opposite her circle, rudely shoving away her swains until the reknitting of harmonic lines to reform a compatible community, all in a very contemporary way, with alienation transmogrified. The décor features prismatic lights overhead, as if to underline the social focus involved, unfortunately often leaving the 10 dancers underlit. The chur ning Michael Nyman score encourages high-energy group dances. Leading the charge this night was Vanessa Zahorian, who is by now doubtless ready to enter some kick-boxing classes as well.
Far more traditional but no less spirited was Helgi Tomasson's revival "Trio" (2011), featuring the animated Sasha de Sola, who weathered having an unfortunate  male partner hard-pressed to try to lift her. An unfamiliar Tchaikovsky score offered ample contrasts and emotions.
The English choreographer Christopher Wheeldon closed out the evening (April 5) nicely via "Within the Golden Hour" (2008). This piece for 14 dancers in sparkling costumes is a feast for the eyes as Wheeldon brings off astute trompe l'oeil effects while one line of dancers moves laterally before a second line. The Ezio Bosso score underlines an intriguing instability. Flow and symmetries are emphasized, right from the pair of limber, muscular men extending gracefully to open the piece. Some of the night's most robust spontaneous applause went for Sarah Van Patten in her poetic, slow-motion sagging figures of arms—a hold-your-breath moment, amidst a very energetic night of movement, to die for. Though not one of the SFB's most famed dancers, she epitomized the high quality and great depth of this elite ensemble.
Two conductors shared the pit podium in a good evening instrumentally.
Afterward, the army of stage hands had their hands full: The multi-scene "Swan Lake" was to raise its curtain just 22 hours later….Casts will change in repeat performances.
S.F. Ballet's Program 7, opening April 5, Opera House, S.F., through April  18. For info: (415) 865-2000, or go online.