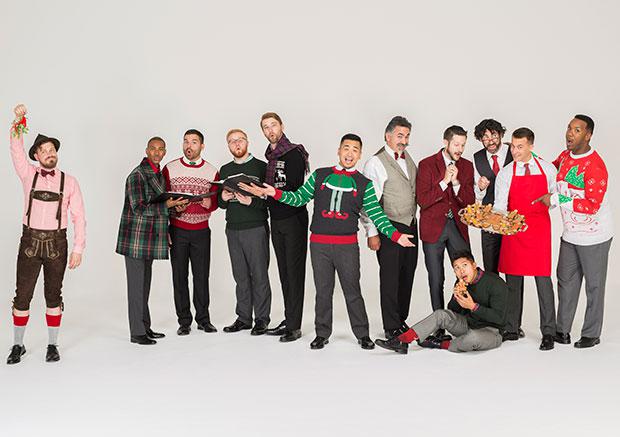 CHANTICLEER PERENNIALS FOR CHRISTMAS
CHANTICLEER PERENNIALS FOR CHRISTMAS
Spotlighting Brilliance of a One-Time Wonder
By Paul Hertelendy
artssf.com, the independent observer of San Francisco Bay Area music and dance
Week of Dec. 12-23, 2015
Vol. 18, No. 33
STANFORD, CA—Heaping wreaths and encomiums on the elite Chanticleer chorus' Christmas program for the 37th time? No—pointless and repetitive.
Let's learn instead from the once-in-a-lifetime burst of genius coming to ordinary folk like you or your neighbor——folks such as Franz Biebl, who wrote the beloved signature piece "Ave Maria" and provided each of us with an invaluable lesson. If this one seemingly simple little work were omitted from Chanticleer's December, riots could break out in the sanctuary and patrons might attack each other with umbrellas in abject frustration. It is an extraordinarily eloquent, moving sacred piece in Latin for male voices, without conductor or accompaniment.
Biebl (1906-2001) had been an obscure organist and choirmaster in the Bavarian town of Fuerstenfeldbruck after World War Two when a fireman asked him to write a work for the firemen's amateur chorus. Biebl was struck by inspiration as never before, among many dozens of every-day works for voice that he had produced. He pieced it together from different liturgical sources, contrasting chant-like unison voices against a rich choral harmony, sung in alternation. Totally consonant, it contains just one brief flirtation with modulation, as effective as truffles on a gourmet entree.
The "Ave Maria" attracted no widespread attention for years. Eventually the Cornell University Glee Club brought it back to the U.S., and the Chanticleer professionals took it up, sang it and recorded it with extraordinary impact. Many choruses (and various arrangements) have flourished ever since. Eventually Chanticleer took this devotional hymn to the Virgin back abroad on tour and sang it for the long-lived Biebl himself, who was, like so many thousands on both sides of the Atlantic, deeply moved by both the proliferation and the professional performance touch.
Was this another Schubert, a nonstop genius laboring in obscurity? Hardly. Musicians and musicologists leafing through Biebl's vast output could find no other work of note; the "Ave Maria" (divine inspiration?) stands alone.
Whether or not we are believers or church-goers, the profound Biebl lesson for us is that any one of us might reach above our humble creative status for that one grand burst of inspiration of a lifetime. There are many one-time wonders in the past music world who have been singularly creative, starting with the impromptu Austrian-village collaboration of Gruber and Mohr in a frenzied Christmas emergency to produce "Silent Night," light-years above and beyond anything else ever in their extended lifetimes. Other one-time stars and marvels might include M. Praetorius ("Lo a Rose E'er Blooming"), Pachelbel (Canon), Holst ("The Planets"), Orff ("Carmina Burana"), Humperdinck ("Hansel und Gretel") and Rodrigo (the guitar concerto containing the later hit single "Aranjuez Mon Amour").
This is not unique to music. For similar phenomena in other fields you need look no further than the seafarer-author Herman Melville ("Moby Dick").
The same creative lightning could also strike you, or any one of us. Food for thought, impetus to creativity!
This year's Chanticleer Christmas program followed the familiar pattern: the 12 unaccompanied male singers delved into a broad range of sacred works spanning a couple of millennia, from Gregorian chant by candlelight in a darkened hall to moderns and spirituals, all without a conductor. The repertory changes annually, but the impeccable tuning and the spirited renditions do not. This year, there are old Latin standards by Byrd, Victoria, Morales, Mouton and Handl (not Handel!). Totally unfamiliar to Chanticleer addicts are works of the living composers Bruno Gousset and Alberto Grau, supposedly in French and Spanish—though not even the vaunted Chanticleer enunciates enough consonants to make those recognizable.
Thereafter, modern selections by John Tavener, Howells and the Bavarian Biebl. Ah yes!
As always, Chanticleer is uniquely blessed with three mature male sopranos: Nathaniel Pence, Kory Reid and Darita Seth, enabling the group as well to sing pieces for mixed-chorus and choirs of men and boys in unsurpassed versatility.
When heard Dec. 10, the crowd jammed here into the giant Memorial Church (despite the rainy night) gave it the spirited standing ovation. And wherever he is, Herr Biebl can take part of the credit. The encore was that carol by Gruber & Mohr, sensitive enough to bring tears to one's eyes.
Chanticleer Christmas choral program through December in Northern California: San Francisco, Oakland, Sacramento, Berkeley, Santa Clara, Carmel, Petaluma. For info: Go online.
©Paul Hertelendy 2015
#
Paul Hertelendy has been covering the dance and modern-music scene in the San Francisco Bay Area with relish — and a certain amount of salsa — for years.
These critiques appearing weekly (or sometimes semi-weekly, but never weakly) will focus on dance and new musical creativity in performance, with forays into books (by authors of the region), theater and recordings by local artists as well.
#