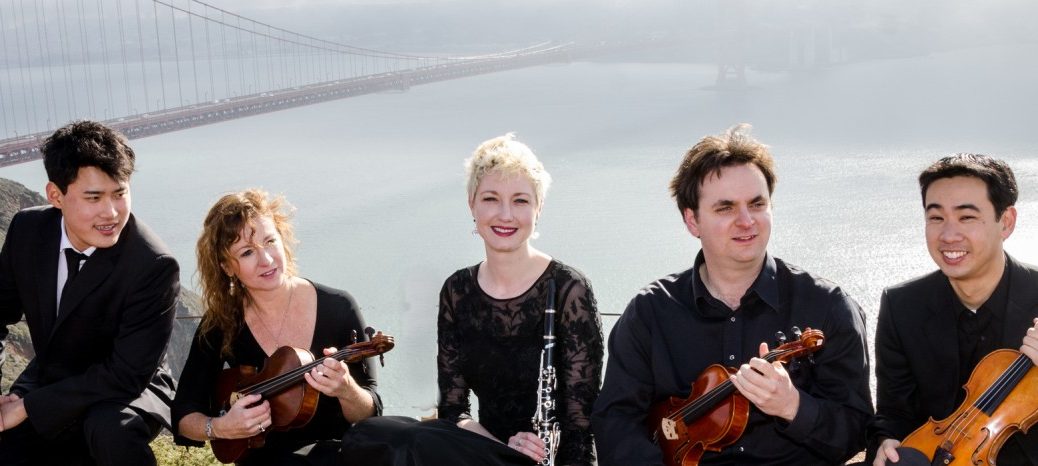 CHAMBER MUSIC'S ORNITHOLOGICAL CORNUCOPIA
CHAMBER MUSIC'S ORNITHOLOGICAL CORNUCOPIA
Farallon Quintet with a New Cannon Aviary
The unusual Farallon Quintet reminds us there are more than 600 compositions for clarinet and string quartet—precisely Farallon's personnel.
Not too caught up in the past, the SF-based Faralloners like to feast on new music. And to launch the new year in style, while musicians elsewhere seemed to be left gnawing on turkey leftovers ad infinitum, letting halls go dark, these players tightened their belts carried off two world premieres at the Old First Church concert site Jan. 8.
The holiday hiatus was decidedly over.
The concert's centerpiece was composer Chad Cannon's 24-minute environmental opus written for the group, "Strange Shores: Tales from the Farallon Islands." Though from Los Angeles, Cannon, 30, became captivated with the Farallons——-jagged rocks some 20 mi. west of the Golden Gate. They've long stood ready to tear the hull out of any ship nearby; they deterred sailing ships from venturing toward that mysterious unknown S.F. Bay for some 200 years.
Cannon's pictorial piece is ingratiating in a low-profile way. Its central movement features an ornithological cornucopia of bird-calls from the isles, which is about as close as any of us can approach there. Yes, bird-calls in concert! Messiaen lives, and so too Respighi, Beethoven and other bird-call composers!
And just in case you don't recall all the songs of birds like the pigeon guillemot or rhino auklet, Cannon introduces recordings of those and seven other birds, coordinating with the quintet's live play.
Natalie Parker's clarinet contributes some avant-garde double tones. Meditations and pastorals dominate most of the eight sections in the skilful pictorial portrayals. Cannon writes very idiomatically for the clarinet, which tends to dominate, from the opening bird-like hiphop to extravagant lyrical scenes.
The other new work was José Gonzalez Granero's "Paisajes" (landscapes), a languid nine-minute foray allowing generous clarinet rubato (stretching of bar lines and tempos).
Both composers and performers revealed that hikes in the wild provided a good part of their off-stage inspiration—a decidedly Californian thrust in music-making.
No group has license to essay Brahms without a really satiny string sound. The Faralloners' string sound is fuzzier, more focused on wholesome spirit than on polished perfection. Thus the Brahms Clarinet Quintet, Op. 115, misfired. Furthermore, the Faralloners too often envisage music as clarinet solos with string accompaniment, not a true balance.
The concert was given at the Old First Church, part of a very active twice-a-week concert series by assorted small groups and recitalists. With its high ceiling, the church is a mite reverberant, but its location well away from other concert sites makes it instantly appealing.
MUSIC NOTES—Composer Cannon selects significant California themes for his music. His "Citizen 13660," heard eight months ago with the Farallon Quintet in Los Gatos, featured reminiscences of the Berkeley-grad author Miné Okubo, who had been interned with around 120,000 other Japanese-American Californians throughout World War Two in regrettable wartime hysteria.
The Old First Concerts series will feature the Farallon Quintet as the ensemble in residence throughout next season.
Old First Church (O1C), Van Ness at Sacramento, San Francisco, presenting varied concerts. For info: (415) 474-108, or go online.
©Paul Hertelendy 2016
#
Paul Hertelendy has been covering the dance and modern-music scene in the San Francisco Bay Area with relish — and a certain amount of salsa — for years.
These critiques appearing weekly (or sometimes semi-weekly, but never weakly) will focus on dance and new musical creativity in performance, with forays into books (by authors of the region), theater and recordings by local artists as well.
#