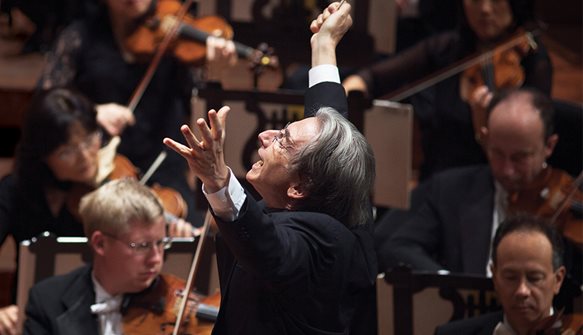 BERLIOZ STRIVING TO RECAST THE SYMPHONY
BERLIOZ STRIVING TO RECAST THE SYMPHONY
Hector Berlioz is two different composers, whether thinking symphonically or operatically.
As he had proven in his early "Symphonie Fantastique," he could be brilliant and concise to the max, creating what many would call the greatest French symphony of them all.
But when he wrote his "Roméo et Juliette" hybrid work, he was thinking much more operatically, drawing out his statements into overly generous lengths. There are glints of great beauty and finesse, but also a lot of bloated segments all but losing sight of the great Shakespearean drama that inspired it. Yes, he could have boiled it down into a moving yet mobile score—but with 200 performers for his world premiere, wouldn't that be short-changing his Parisian audience back in 1839??
Given a rare performance by the S.F. Symphony and Chorus, this choral symphony "Roméo et Juliette" offered a unique symphonic hybrid. Despite three vocal soloists used sparingly, no one portrays either Romeo or Juliet; the entire work poses reflections and sympathy on their tragic story. The chorus is dominant. Overall, the piece is subtle and refined, virtually devoid of the heavy brass for which the composer is type-cast.
We're in an era when the awe-inspiring French conductors like Monteux, Munch, and Boulez are gone while others, like Michael Tilson Thomas, are striving to provide that eloquent and at times piquant Gallic touch from afar. Few leaders can provide a vibrant Berlioz journey from Shakespeare's England across the English Channel. If the result is less than simulating, at least this entirely unique work gets an airing. But it's a heavy burden, even with supertitle translations, played out (on June 28 at Davies) over 100 intermission-less minutes.
Fears over the audience disrupting the live recording sessions with coughs were ill-founded. Quite the opposite—some folks around us were in a celestial silent sleep well before the end.
Berlioz's strongest contributions were the substantial instrumental passages, where his mastery of orchestration came to the fore. These include the Love Scene dominated by sublime muted strings; the deft, tiptoeing Queen Mab Scherzo, and the whimsical firefly chorus that follows; and, in the death of the lovers, the plaintive whimper of despair from the clarinets. In the "Great (Dance) Festivities of the Capulets," an earworm of a sailor's dance pops out, remarkably similar to what Wagner put into "The Flying Dutchman" four years later.
The work takes a surprise turn near the end, with an enlarged role for Friar Laurence voicing a Christian plea for reconciliation between the warring families, leading to a celestial finale.
The Symphony Chorus excelled, both on the elusive French vowels and consonants, with far better diction than expected. The soloists came in bits and pieces, led by Vietnamese-American tenor Nicholas Phan with lovely lyrical tones. As the friar, bass-baritone Luca Pisaroni was more authoritative than compelling, sounding more like a Roman general than a pastoral man of the cloth. Mezzo Sasha Cooke furnished a sensitive introduction.
BERLIOZ NOTES—Often cited as the first great orchestrator, Berlioz innovated in instrumentation as well. He was the first to insert harps into the orchestra.
Berlioz dramatic symphony "Roméo et Juliette," in French, with S.F. Symphony and Chorus under MTT's direction. June 28 at Davies Hall, S.F. For SFS info: (415) 864-6000, or go online.