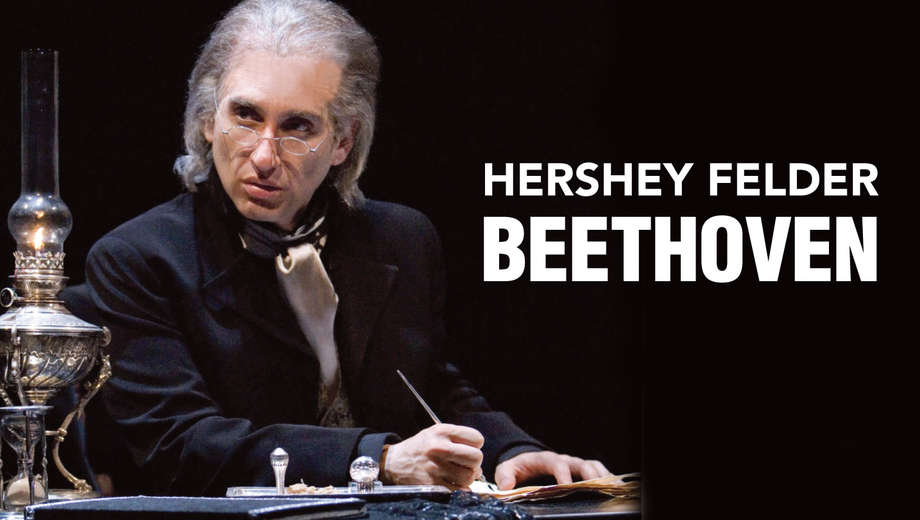 BEETHOVEN'S LIFE, AT PIANO OR NARRATED, IS A PENINSULA SUCCESS STORY
BEETHOVEN'S LIFE, AT PIANO OR NARRATED, IS A PENINSULA SUCCESS STORY
The versatile pianist-actor Hershey Felder, who won praise for his performances as Leonard Bernstein and George Gershwin and other musical giants, has moved into deeper waters with his hugely successful account of the composer Ludwig van Beethoven, now in an extended run at the Mountain View Center for the Performing Arts.
Felder is a remarkable performer – a fine musician whose pianism elevates this bit of theater to a lofty plane as he entertains us with his impersonations of the cranky, deaf master of music and  his young companion, Gerhard von Breuning, the son of a  childhood friend of Beethoven's. Von Bruening's father and Beethoven quarreled and avoided one another for a decade, but as the show opens a chance meeting on the street renews the friendship and introduces our narrator – then about 12 years old – to the rumpled, cranky Beethoven.
Aided by a brilliant set and the direction of Joel Zwick (My Big Fat Greek Wedding), Felder weaves fact and fiction into this beguiling production staged by TheatreWorks Silicon Valley.
Beethoven's life is great theater;  it has produced a number of accounts for film and stage – the the play "33 Variations," staged by TheatreWorks Silicon Valley in 2012; the films "Immortal Beloved" and "Copying Beethoven," a charming film about a fictional young woman music student assigned to copy Beethoven's manuscripts for his Ninth Symphony into performable scores.
In a too-brief hour and a half, Felder keeps the music front and center.
The play opens on 13 October 1863. Beethoven's bones have been exhumed and are about to be reburied. Von Bruening, a physician, makes the case for keeping  Beethoven's remains above ground where they  can be studied by scientists, so that future generations may know what caused his deafness, perhaps to find a cure.
He recalls the day, "36 years ago," that Beethoven died, explaining that he was the last person to personally know Beethoven. So begins a fascinating musico-historical tour through Beethoven's life, with a big Steinway concert grand center stage, surrounded by the tombstones of a graveyard.
The first piece of music we hear is Beethoven's first – a set of variations written when he was 11 years old, then a youngster living in the small German town of Bonn.
Beethoven moved to Vienna, the musical center of Europe, when he was old enough to leave his troubled home. There he  met his idol Mozart. When his mother became ill, he returned to Bonn, remaining there for 5 years. When he made it back to Vienna, Mozart fell ill and died at the young age of 35.
Beethoven is stricken by this death. Felder stages this grief by having Beethoven play some of Mozart's Requiem Mass at the piano, singing the parts. This astonishing piece of music and theatrical magic set the stage for what 's to come  – a narrative in which Beethoven's own music and theatrical magic set the stage. It's  a narrative in which Beethoven's music remains solidly at the center of the story, added to substantially but never overshadowed by Felder's versatile acting of his two characters. There is one other unseen character – Felder the musicologist and biographer. One small example of his subtle didacticism: seated at the piano, he sounds a thunderous, low C minor chord, arguing (as von Bruening) that this is the touchstone of Beethoven's inner life, especially the torment of his deafness. Then he launches into a brilliant performance of the "Pathetique" (Op. 13) sonata.
You may never look at C minor the same way again.
The show continues through July 9. It is breaking attendance records for TheatreWorks Silicon Valley (some 40 miles south of San Francisco) – records that Felder himself set last year with his performance of Irving Berlin. Felder is already committed to a similar program, but focused on Tchaikovsky, starting Jan. 10, 2018.