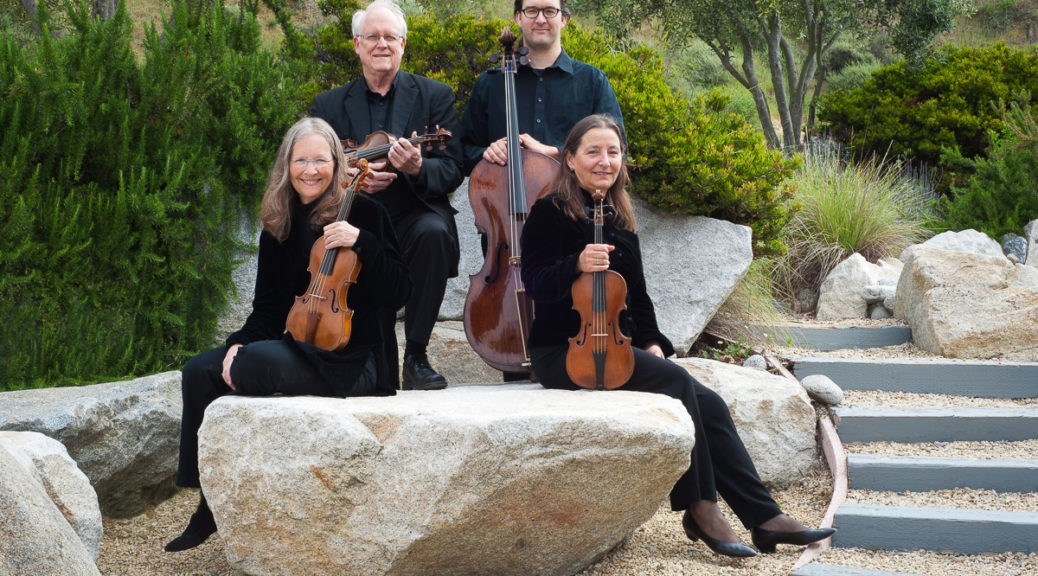 BEETHOVEN, THIS TIME A MITE SHEEPISH
BEETHOVEN, THIS TIME A MITE SHEEPISH
Late Quartets, & 'Transplant,' in Intimate Berkeley Hall
BERKELEY—The perfect trifecta to report: an unfamiliar ensemble, a new hall, and Beethoven music that was (once considered) very modern.
To fill the August vacuum in classical music, the New Esterházy (String) Quartet tackled the formidable last five quartets, Op. 127-135, written by Beethoven in his last couple of years, when he was in failing health and pain. These works were so far ahead of their time, they raised hackles among critics, who couldn't seem to decide whether he was going mad or senile. There were deliberate dissonances, difficult key signatures, extra movements (up to seven, or three above par), and various departures from the standard allegro-andante-scherzo-allegro format. The Op. 130 heard at the Aug. 26 opener boasts two slow movements, and three others with dance-like rhythms—thoroughly unorthodox.
These were works for the future, and the passage of decades has proven Beethoven correct. Every one has his favorite: At the world premiere nearly two centuries ago, Op. 127 was a hit with the audience; the "Great Fugue" is the biggest hit today, even taken up by orchestras; Op. 131 is often cited as the best work of the lot; and meantime, for my desert-island one-only, I prefer his moody Op. 132, whose travails trace out a late-life autobiography.
The New Esterházy players, who are best-known as stalwarts of the Philharmonia Baroque Orchestra here, perform on period instruments following the style and practice of the Haydn-Mozart-Beethoven era. That means a mellower, less metallic sound, lower tension all around, and a slightly lowered pitch (from 440 to 430 Hz). It serves Haydn better than Beethoven, who demanded crisp accents, true fortissimos, and occasional revolutionary shocks here and there. Music was moving from the intimate, decorum-laced princely palaces (like Haydn's Esterházy in Western Hungary) to less orderly popular halls, and instruments were being modified to create greater impact. Quartets were no longer an amiable evening entertainment, but ever more drama, impact, and theater!
Even with a small rear screen on the Hillside Club stage to enhance the sound, the full-spectrum Beethoven did not come through. Given the foundations supporting this on-going concert-series enterprise, I'd say the first priority for Esterházy concerts here is to fund and order up a first-class, sound-reflecting acoustic shell.
After a rocky start with Op. 127, the foursome settled in for solid play in Op. 130, with frequent retuning needed, recalling the halcyon era of capricious all-gut strings. Op. 130 could well bear the subtitle the "Transplant Quartet," as it underwent one of the best-known organ transplants. Because it ran very long, Beethoven detached the "Grosse Fuge" finale and substituted the shorter 10-min. ending now used; in this form, the work still took a generous 45 minutes.
MUSIC NOTES—Violinists Kati Kyme and Lisa Weiss alternated in the first-chair role….The musicians mingled informally with the public during the pause…Violist Anthony Martin readied his audience for Beethoven's sonic earthquakes, introducing the event with: "As we set out on this very rough track that Beethoven set out for us, welcome aboard!!"
Beethoven's boundless passion for composing was nowhere more evident than in results of posthumous medical tests, which showed that, despite his ill health, he used no pain-killers, wanting evidently to maintain a clear head throughout—for which we are the great beneficiaries.
New Esterházy (String) Quartet playing Beethoven's last five quartets, ending with "Die Grosse Fuge" Aug. 30. Hillside Club, 2286 Cedar, Berkeley. For info: Go online.
©Paul Hertelendy 2015
#
Paul Hertelendy has been covering the dance and modern-music scene in the San Francisco Bay Area with relish — and a certain amount of salsa — for years.
These critiques appearing weekly (or sometimes semi-weekly, but never weakly) will focus on dance and new musical creativity in performance, with forays into books (by authors of the region), theater and recordings by local artists as well.
#