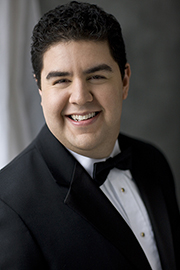 BEETHOVEN TAKES A BACK SEAT WITH TAO DRIVING
BEETHOVEN TAKES A BACK SEAT WITH TAO DRIVING
But Half a program Saved by Emergency Conductor
BERKELEY—A podium substitute saved the day for the Berkeley Symphony when Lisbon-based Joana Carneiro had to cancel on doctor's orders.
Though the music director is still well short of the big four-oh birthday, her health remains a question mark. Management was tight-lipped about when the popular conductor might return to action here.
The surprise emergency guest was New Yorker Tito Muñoz, music director of the Phoenix Symphony, making his local debut. His crisp, accurate baton work combined with an articulate verbal introduction made a strong impression as he led the Lutoslawski Concerto for Orchestra (1954), a work that he fortuitously already knew. Without a lot of visible fuss, he established a fine rapport with both orchestra and audience as the many sections came to the fore illuminating the skillfully assembled tonal work.
Lutoslawski's music emerged from Poland after World War Two, sometimes lumped with Penderecki. But where the latter focused on vocal-choral-religious music to a large degree, the former is duly known for his engrossing symphonies. While he was noticeably influenced by Bartok's similarly titled opus, he diverged. In the opening, a deep theme in the cellos comes back toward the end, in mirror image octaves higher in the celesta.
The second movement is a lively scamper for flutes and piccolos. The third movement (Passacaglia-toccata-corale) is the longest and meatiest, bringing on mysterious pizzicato bass themes, piano riffs, and explosive outbursts led by percussion. Lutoslawski likes to proceed on split levels—-sometimes very subdued, sometimes full orchestra. The constantly shifting piece turns rambunctious, flying off in a well-defined "gallop across the plains." Fasten your seat-belt!
It is a quality work to admire and enjoy, but meager in length for a half-concert, barely a half-hour. Muñoz did wonderfully, stepping in on less than a week's notice, cuing his players and staying on top with strong baton leadership.
Thereafter we got comic relief. The Beethoven "Emperor" Concerto (No. 5) featured Conrad Tao, 21, a self-confident soloist and showman with ferocity and technique to burn. His play is cool, collected, choppy and LOUD. He pounded the living daylights out of the piano, obliterating any kind of sonic balance with the orchestra, taking a very percussive approach.
Some semblance of decorum returned in the slow movement, whose main 5-note theme is familiar to Leonard Bernstein fans as the start to his hit "(There's a Place for Us) Somewhere" in "West Side Story," written a century and a half after Beethoven.
Even the orchestra sounded brittle here, and the piano voicing could have been more mellow if adjusted.
I rarely comment on soloists' attire, avoiding dwelling at length on Tao's informal tie-less (rehearsal-like) appearance, with shirt unbuttoned down to the chest. But you wonder where is the perspective, taking on an imperial landmark concerto with such sartorial disdain, setting off strong vibes against the formality of the musicians all around in the large ensemble, and arguably crossing swords with Beethoven himself?
Tao's encore was much more down his alley: A virtuosic tour de force by modernist Elliott Carter, written at age 99, with more vitality in it than a dozen etudes by others. He brought down the house.
Me, I'd like to bring him down a necktie. Or bow-tie.
The concert will be delay-broadcast on radio KALW 91.7 on May 16.
Berekeley Symphony under guest conductor Tito Muñoz Feb. 4 at Zellerbach Hall. For info: (510) 841-2800, or go online.
©D. Rane Danubian 2016
#
D. Rane Danubian has been covering the dance and modern-music scene in the San Francisco Bay Area with relish — and a certain amount of salsa — for years.
These critiques appearing weekly (or sometimes semi-weekly, but never weakly) will focus on dance and new musical creativity in performance, with forays into books (by authors of the region), theater and recordings by local artists as well.
#