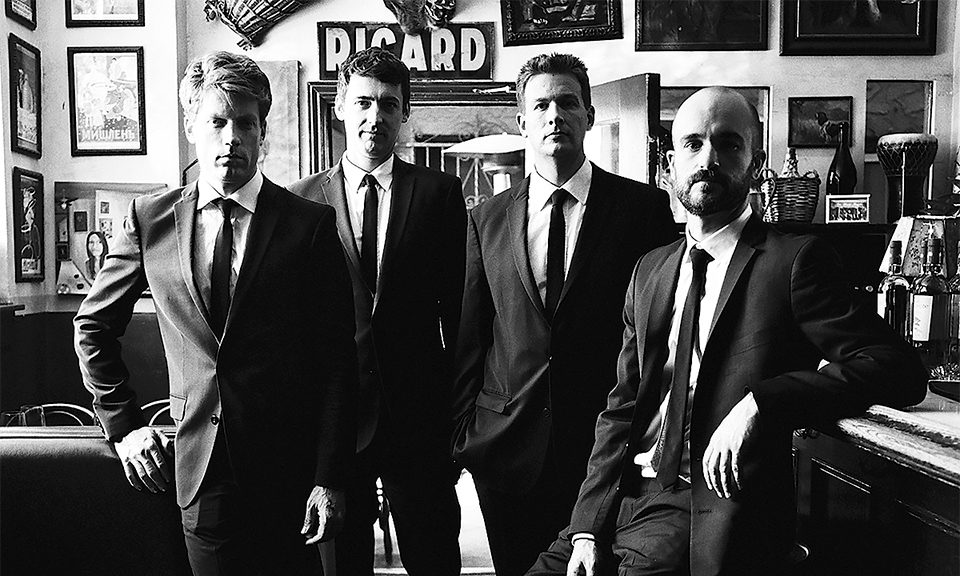 DID BEETHOVEN MEET DEBUSSY IN A TIME WARP??
DID BEETHOVEN MEET DEBUSSY IN A TIME WARP??
Those fire-eaters from Southern Cal known as the Calder Quartet played some bristling contemporary works, plus one of Beethoven's most whimsical efforts.
The four mid-career men—identically dressed in dark suits, with matching ties—show an uncanny rhythmic bent able to decipher and render the most complex metric signatures that only modern composers like Thomas  Adès and Boulez dare to call for and to dabble in. Seven beats to the measure, 11, 13, even 25 (or almost any prime number you might come up with) can be tossed onto the music stand and played with meticulous speed by the Calderites.
Adès' "Four Quarters" puts the ensemble through its paces. The all-pizzicato 2nd movement  "Serenade" seems to have each pluck entering at a different microsecond juncture, but under strict control. The last movement has 25 beats to the measure, split up in varied ways in the highly technical writing that only a virtuoso string quartet like Calder could emulate. There is arresting sound, and ear-tweaking squeaky-hinge effects. The composer loves to call for whimsical high violin notes, often contrasted against a growling cello.
His tone poem "Arcadiana"—also 18 min.—was an early opus from 1994, when he was only 23. The eclectic work includes quotations, and glints of sentimental melodies, with some influences from early Webern. The final segment suggested to this listener glimpses of fire-flies over a cello tune.
The other piece, "Sabina" by Andrew Norman, 37, is a set of impressions ln light pouring into a church in Rome bathing the interior with colorful designs. Broken-chord effects gather ever greater momentum, without themes emerging, over a 10-minute span.
Properly sharing the spotlight was Beethoven's mystical, meandering E Minor String Quartet, Op. 59 No. 2, "Razoumovsky"—a moody, impulsive work that totally mystified its early audiences, who found it downright avant garde.
It's as if Beethoven jumped into a time machine to spend a couple of weeks playing and discussing music with Debussy. Right after the short opening phrase, it goes right into a modulation, and from there, it's hold on to your hats, folks! To the delight of Herr Razoumovsky, Beethoven worked in a Russian theme, but hardly predictably: The altered Russian hymn tune (which we also know from the stately coronation choir in the Mussorgsky opera "Boris Godunov") comes up in the Scherzo, at flank speed.
You visualize Godunov suddenly riding a skate board at a scary clip down a steep hill.
This E minor quartet would benefit from a warmer Viennese string sound than Calder brings to it. However the Calder group's immense skill at the most challenging rhythms is formidable, and you'd be reluctant to have them lose that rarest talent.
Calder Quartet, Herbst Theatre, S.F., April 12, under auspices of S.F. Performances. For info on SFP presentations: (415) 677-0325, or go online.