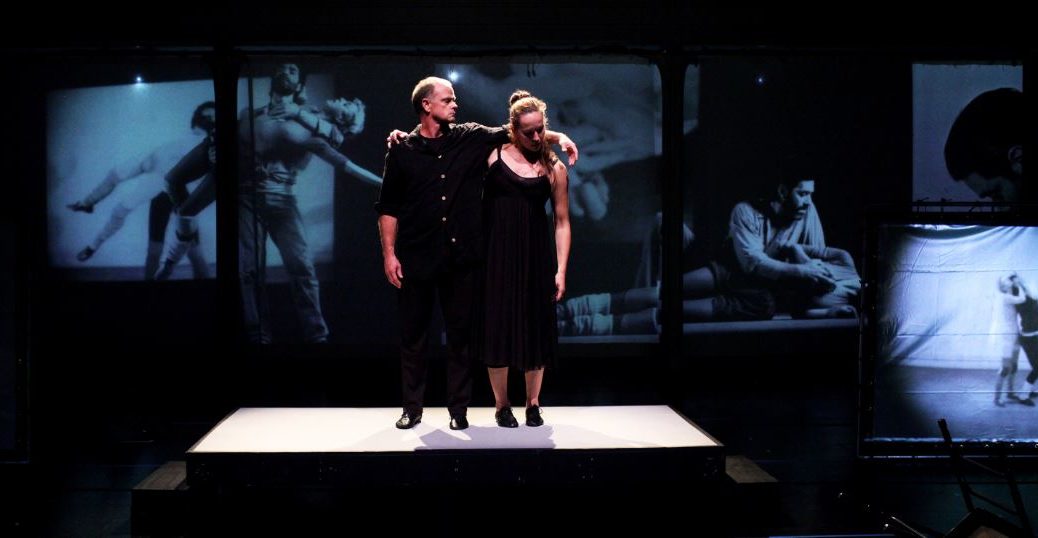 Scott Cunningham and Karen Graham in a scene from David Gordon's Live Archiveography
Performance as Bio-Archive: David Gordon at ODC
Performance as Bio-Archive: David Gordon at ODC
Dance concerts in which dancing is incidental or secondary to some larger idea of dance performance have become common in postmodern dance culture. Bill T. Jones (b. 1952) has become one of the most successful advocates of this aesthetic. But one can trace the origin of the aesthetic back to the Judson Dance Group, a collection of dancers associated with experimental performers like Yvonne Rainer, Steve Paxton, and John Cage, which in New York City, between 1962-1964, explored the potential of "ordinary" bodily movements to free dance performers and audiences from oppressive addictions to technical proficiency, theatrical artifice, idealized body types, emotional storytelling, and conventional "entertainment." The Judson Group freed dance to be, not even about dance, but about dancers and choreographers, about the process of making dances or, rather, about the making of movements that deserve some sort of attention. Dance for this brand of postmodernism is the story of how dancers live and work together in a studio—although this has more often become the story of how a choreographer has developed a process for sustaining a dance company.
David Gordon (b. 1936) was one of members of the Judson Group, and his company performed at ODC in San Francisco, April 20-22. The company does have a story to tell, and it is the story of his life, called Live Archiveography or twice cooked pork & refried beans. It is an autobiographical work that describes the main events in Gordon's career as a performer and events in his life that shaped his performance aesthetic. However, the show does not really tell Gordon's story through dance, for dance here is simply something people do to have a story to tell. Live Archiveography is a multimedia show involving three video screens, a slide show, numerous video clips, written text projected on screens, voiceover narration, live narration by various performers, including Gordon himself, and live action dialogue occurring in tandem with screen images, often video clips of the same movements performed decades ago. It is a lot for the viewer to take in, especially since Gordon inundates the hour-long show with an enormous amount of spoken and written text, which the performers read off scripts they hold. The program notes are similarly verbose, and include a 2002 article on Gordon by Suzanne Cabonneau for the Jacob's Pillow Dance Festival. She observes that Gordon is "interested in the ways that the interaction of words and movement increase the possibilities for complicating and layering meaning." However, it is evident that this rhetoric serves to conceal a desire to talk about dance (or movement, since Gordon hesitates to call himself a choreographer) rather than communicate through dance.
When you enter the performance space, well before the official beginning of the concert, Gordon, sitting at a desk, is already talking, reading along with screen-projected text excerpts from an interview with him, while the delightful Valda Setterfield (b. 1934), Gordon's wife, and Scott Cunningham, a Gordon dancer since 1986, perform various movement exercise with wooden frames. The effect is of having entered into the "middle of the story," that is, a story that does not really begin or end "on time." When the lights darken, the viewer watches a kind of documentary of Gordon's main achievements. The three screens compile a huge number of video clips of Gordon's performance "works," beginning with a piece from 1989 that used a text by John McPhee about a catastrophic "debris flow" in Los Angeles to accompany the movements of six dancers in a studio. But these excerpts of works last only two or three minutes at most. Punch and Judy (1999) follows, a spoken dialogue in which Judy announces her intention to murder the obnoxious Punch; then, Dog Duet (1999), in which a couple communicate through grunts. Setterfield speaks a monologue in which she asks: Who is the real Valda, when David writes all of her lines? The show continues with commentary and clips related to The Beginning of the End, when (2012) Gordon transformed Luigi Pirandello's play Six Characters in Search of an Author (1921) into a twenty-minute performance "work." This section becomes entangled in a scripted discussion about the definition of a duet in which Setterfield claims that, "it's not in [David's] nature to be pleased. […] You enjoy argument—we do not." This leads to clips and discussion about what is perhaps Gordon's most famous work, Chair (1974), in which a pair of dancers uses folding chairs as their partners. Gordon intersperses clips from old movies that have inspired him or that were important to him in his youth: Eadweard Muybridge (1870s), Pride and Prejudice (1940), Burns and Allen (1929), Daddy Long Legs (1955). In the second half of the show, Gordon fills the screens with images from his childhood growing up in the Lower East Side of New York City, accompanied of course by much commentary about his father and his grandmother, whose lives shaped his pieces A Plain Romance (1984) and the Jewish shtetl remembrance My Folks (1982), which featured musicians playing while pulled on gliding cloth, as if they were in floating boats.
Video clips pile up, and it is difficult to separate them, even though they come from four decades. Meanwhile, Setterfield, Cunningham, and Karen Graham are busy performing (and sometimes commenting) on movements performed on the screen decades ago. Gordon's life may have evolved, but his approach to movement seems not to have changed at all since the early 1970s: simple movements that do not "represent" anything but the performer's desire to "shift weight" or adjust to a person or object like a chair or wooden frame. Perhaps the most interesting clip in the show comes from the 1980s (I think) depicting a solo dancer imagining he has at least one partner and providing a spoken (and witty) commentary explaining to his audience that he is now himself, now his female partner, and now another partner. Despite all the textual layering within the multimedia technology, nothing else in the show seems quite as complex aesthetically as the performance in this clip.
Archiveography is the story of a life lived almost entirely within a dance studio, the refuge from the catastrophic debris flow of the world outside of it. The show has no intermission, but halfway through, Gordon stops the narrative to invite questions from the audience. One spectator, noticing slide images from the Iraq War and the Civil Rights Movement but not seeing the connection to anything in the performance or commentary, asked him if or how "external" events inspired him or contributed to his work. But although he spoke at some length in response to the question, he didn't really answer it. Instead, he concluded by saying that his work consisted of "variations on what I've been doing forever." I got the impression that for Gordon, as for so many in the postmodern dance community, dance has been a way of avoiding contact with the world outside of one's self and a matter of what you can create in a sequestered space, a bare studio, with other dancers who see dance as a freedom from having to be or represent anything other than themselves. But in this studio-enclosed culture, the movement vocabulary is extremely limited and seems not to have advanced beyond what the "ordinary movement" apostles offered decades ago. As Gordon himself declared: "I have nothing to teach," by which he seems to have meant that movement in itself for a long time has not had anything important to say. Perhaps, then, what Gordon's show says, if inadvertently, is that the postmodern poverty of choreographic imagination—or the postmodern body's poverty of semantic value—requires a torrent of words, a grandiose commentary, to explain it or, more likely, to veil it.
David Gordon Pick Up Performance Co(s) presented LIVE ARCHIVEOGRAPHY at the  ODC Theater, San Francisco on April 20, 21, and 22. For more info on LIVE ARCHIVEOGRAPHY: go online.
#
© Karl Toepfer 2017
Karl Toepfer is a dance reviewer for artssf.com.
These critiques appearing weekly (or sometimes semi-weekly, but never weakly) focus on theater, dance and new musical creativity in performance, with forays into recordings by local artists, and a few departures into books (by authors of the region) as well.