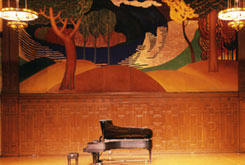 ASTONISHING OPERATIC DOINGS AT MILLS COLLEGE
ASTONISHING OPERATIC DOINGS AT MILLS COLLEGE
Prewar One-Act Milhaud Opera the Highlight
OAKLAND—The Bay Area's most significant September musical event arguably transpired with a small opera in a small hall, well off the beaten track.
It was also a night of supreme nostalgia, unfolding with the revival of a Milhaud opera about Medea at Mills College's arts-encrusted Concert Hall.
With many alumnae of early Mills classes reuniting on the occasion, the college paid homage to one of its music stars who had held forth at concerts in this very hall for more than 30 years.
This had been the prolific French composer Darius Milhaud (1892-1974), who has been called the 20th-century Telemann for his giant output—442 compositions, including 18 operas and 12 symphonies. But he was even more significant as a trail-blazing innovator, among the first to delve into spatial music, chance music, European jazz, and polytonality (i.e., two or more keys being played simultaneously), among others. He once even showed me copy of a chiding letter he had sent a musical colleague who had not been heard from, featuring 64 measures of total silence—written years before John Cage's famous silent opus "4'33"."
The Parisian Milhaud had lodged, taught and conducted at Mills in alternate academic years from World War Two till the early 1970s. His courage was exemplary as he maintained a full schedule despite a debilitating and painful bone disease afflicting him through most of his life.
Milhaud's terse one-acter "Médée" (1938) got a heartening semi-staged reprise here Sept. 25. Milhaud wrote in a bolder, more audacious style than most of today's composers, sometimes as though half the orchestra was playing in the wrong key. It's jarring, but not uncomfortable. At least, it's not nearly as uncomfortable as the ancient Greek tale of Medea, a spurned, jealousy-driven queen who is driven to multiple vengeance murders, killing even her own children to frustrate her unfaithful husband and his late-model wife, the glamorous young Creusa (named Glauce in the Greek drama).
Your sympathies are with Medea, a woman much possessed, somewhat mad, and passionately violent. As wedding present, she sends off a poisoned robe to Creusa, which kills both her and her father Creon. All this drama of the foursome is squeezed into just 75 compressed minutes, with commentary by the Greek chorus (and projected supertitle English translations of Milhaud's French).
The fetching young Creusa was played to perfection by the young coloratura soprano Maya Kherani, balanced by the well-grounded baritone of Creon (Eugene Brancoveanu). Tenor Jonathan Smucker gave us a taut, uptight Jason, one of history's great cads. Dramatic soprano Marnie Breckenridge performed the title role vehemently, driving her voice with more passion than beauty. Various arias give each a chance to show their character, personality and flaws, delivered in a variable command of the French language.
Stage Director Brian Staufenbiel had created mobile light projections by way of scenic design. Also of note was a stormy electronic-music interlude after act one created and added by Maggi Payne, underlining the chaos and tragedy to come.
Nicole Paiement conducted the 24-member orchestra very effectively, though nothing she did could obscure the opera's one glaring flaw: Lack of a musically stirring grand finale, when Medea delivers her last angry riposte on splitting off for good from Jason.
Nonetheless, the opera performance provided one of the unquestionable highlights of the young season here. Given Mills' on-going fund for annual Milhaud performances, I await impatiently the next foray into the heart of the bottomless Milhaud repertoire.
CAST NOTES—A fast-rising singer-actress to watch for is the mercurial soprano Kherani, still continuing opera studies in Boston. This improbable opera singer had graduated summa cum laude in mechanical engineering at Princeton University.
Milhaud's opera "Médée" (1938), in French, semi-staged, part of the Mills Music Now series at the Concert Hall, Oakland, Sept. 25. For info: go online.
©Paul Hertelendy 2015
#
Paul Hertelendy has been covering the dance and modern-music scene in the San Francisco Bay Area with relish — and a certain amount of salsa — for years.
These critiques appearing weekly (or sometimes semi-weekly, but never weakly) will focus on dance and new musical creativity in performance, with forays into books (by authors of the region), theater and recordings by local artists as well.
#