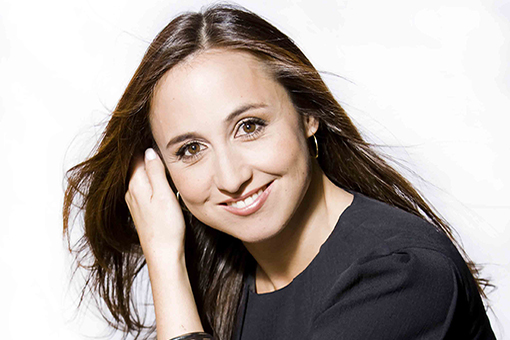 THE ASCENT OF JOANA CARNEIRO
THE ASCENT OF JOANA CARNEIRO
Berkeley's Latest Venture: A Concert-Hall 'Frankenstein'
BERKELEY—Conductor Joana Carneiro, toiling for years leading the Berkeley Symphony, has hit her California breakthrough year. She is also leading the Ojai North program coming up shortly, as well as concerts in the Hollywood Bowl (Hey, size matters too). And next winter becomes the first music director of the 47-year-old Berkeley Symphony to be tapped a guest conductor of the San Francisco Symphony across the bay—a rare accolade indeed for a nearby smaller rival.
Of course her career back home in Portugal has done very well all along. But her West Coast presence heretofore has been confined essentially to the modest-budget BSO, which gives only four subscription concerts a year.
With the BSO, her programming is grower bolder yet. On May 5, she presented a contemporary 35-minute tone poem comprising half the evening. And next season, opening Oct. 13, she is including only two classic audience favorites: Beethoven's Symphony No. 4 and Piano Concerto No. 4. And still, the Berkeley audiences—probably over 50% senior citizens—- keep coming inquisitively.
Mark Grey's "Frankenstein" Symphony, this week's novelty, is an extended tone poem drawn from his forthcoming eponymous opera inspired by the Mary Shelley novel. Petaluman Grey, 49, is well versed in big Hollywoody effects, whether depicting horror or utter chaos. But he's also a skilled orchestrator with alluring combinations of woodwind passages and added glockenspiel sparkle.
His forward-thrusting music is mobile, even when it doesn't flesh out enough substance to carry the 35-minute length. He has brassy fortes and operatic climaxes; at the other extreme, audible scenes of eerie uncertainty, inner anguish, indeterminacy and restlessness—subtlety in spades.
Even though he offered printed texts for each of the five segments, there were no solos, no vocalists. All had been deleted from the opera score and rerouted to instrumental sections. To avoid headless-horseman jibes, he might consider incorporating some solos, whether instrumental or vocal, in future reprises. This was only the second performance of the tone poem.
For once the over-gesticulating by Music Director Carneiro made a lot of sense, as this work called for gesture and muscle in abundance, and Carneiro got the best out of her merry and dedicated crew.
The second half was quite amazing. For the Tchaikovsky Violin Concerto, the soloist was Simone Porter, a tall, strong woman with the robust sound of a Guadagnini fiddle resonating through Zellerbach Hall. She's played with every orchestra imaginable already, yet she is barely reaching her 20th birthday. The performance recalled the vigorous dynamism of the young Isaac Stern in mid-20th century; I think if she recorded it this week, you would be very satisfied with the caliber. The bow arm is as powerful as any one's active. Porter comes out of Seattle, still studying at the Colburn School down south. I'd swear she plays like a fully mature 30-year-old.
'PROMETHEUS' DELETED—Despite all the speeches at curtain time for which the BSO is notorious, no explanation nor mention was made of the deletion of the scheduled Beethoven Overture from the ballet "Creatures of Prometheus." The result was just 71 minutes of music, instead of the usual 90. Presumably extra rehearsal time was needed because of the unfamiliar Grey novelty.
Berkeley Symphony playing Grey and Tchaikovsky May 5, Zellerbach Hall. For info: (510) 841-2800, or go online.
©Paul Hertelendy 2016
#
Paul Hertelendy has been covering the dance and modern-music scene in the San Francisco Bay Area with relish — and a certain amount of salsa — for years.
These critiques appearing weekly (or sometimes semi-weekly, but never weakly) will focus on dance and new musical creativity in performance, with forays into books (by authors of the region), theater and recordings by local artists as well.
#