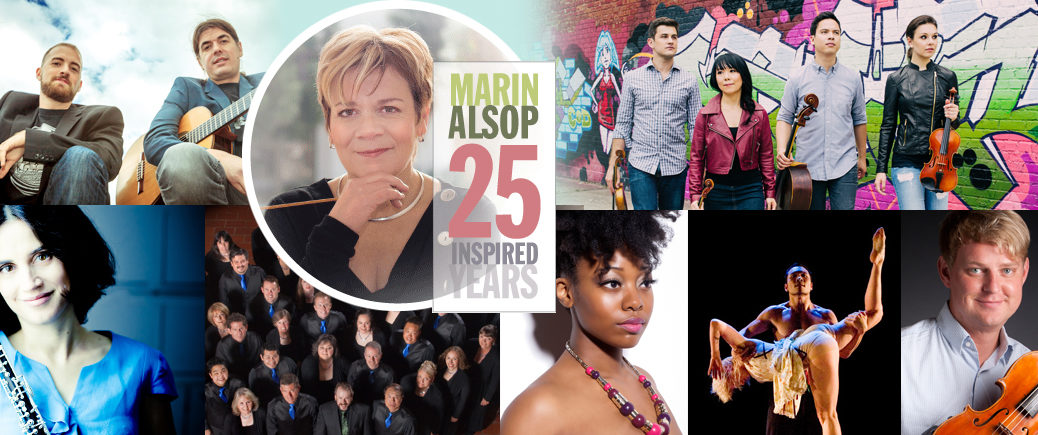 ALSOP'S FINALE CABRILLO SEASON
ALSOP'S FINALE CABRILLO SEASON
Arresting Works of MacMillan, Rouse, Clyne 
By Paul Hertelendy 
artssf.com, the independent observer of San Francisco Bay Area music and dance 
Week of Aug. 6-13, 2016
Vol. 18, No. 81
SANTA CRUZ, CA—Rarely known for its performing arts, Santa Cruz trumps them all every August with its Cabrillo Festival of Contemporary Music, a nonpareil orchestral showpiece with music of the past decade as well as numerous important American composers in person, living and breathing (zounds!). These range from Old Guard (Christopher Rouse, 67) to Young Guard (Anna Clyne, 36).
For her 25th and final year at the helm, Music Director Marin Alsop, a very youthful 59, avoided retrospectives, charging ahead on Aug. 5 with her format of unfamiliar music by familiar names. A sold-out Civic Auditorium audience gave it the habitual rousing ovations. The fest is a unique American phenomenon, according to Jesse Rosen, head of the League of American Orchestras.
Little old Cabrillo, no less, "has set the standard for 1,200 American orchestras," declared Rosen, unstinting in his praise. "This is the laboratory."
The focal work was more ballet than orchestra—Clyne's world premiere "Rift." Her versatile 20-minute piece meanders through many timeless elements—low strings imitating medieval chant, perpetual motion and minimalist effects, upbeat percussion keyboards in unison, sharp outbursts of brass and percussion, moments of tragedy, and finally a minor-key theme in the strings sounding like an Eastern-European folk song, all of it episodic. The passionate outbursts were inspired by the real-life massacres in both Europe and America, giving way to episodes of healing and reconciliation.
The dances by six young barefooted ballet performers featuring moments of love, battle and revulsion were choreographed by Kitty McNamee.
Rouse contributed the oldest work, his Oboe Concert of 2004. Asked beforehand if this one was from his reputed "doom and gloom" style, he
retorted tongue in cheek, "No. Man does not live by dread alone!!"
What distinguishes his concerto are the subtle background orchestral touches—chirps, wood-block clacks, exquisite woodwind harmonies and mellow sounds suggesting a total, plausible, separate-world environment. You had to love his deft punctuation. A Baltimore Symphony member like Alsop herself, soloist Katherine Needleman produced not a huge sound, but a compelling one, carpeting the hall with lyrical sounds now, and then bringing sparkle with virtuosic staccato segments.
I don't know if her oboe could charm Indian cobras. But I do know her effort charmed the crowd. Uncredited was the no-less-charming obbligato by bass flutist Lauren Sileo.
Another frequent Cabrillo collaborator is that wizard of rich sonics, James MacMillan, 57, who has made the trek here from his native Scotland more than once. MacMillan's "The Death of Oscar" shows a strong Wagnerian influence with a pronounced Scottish accent. It's a powerful opus inspired by the legend of the poet Ossian upon the death of his son Oscar. This threnody also featured a moving solo by English horn player Paula Engerer.
The curtain-raiser was Rouse's syncopated "Thunderstuck," with roots in popular music of nearly 40 years ago.
As usual, Alsop invigorated the selections, somehow getting the whole challenging program forged into shape effectively. Alsop's repertory is
tonal, consonant, and decidedly not hair-raising. It's a safe passage through the vast chasms and canyons of contemporary music on a path which the audiences can readily take—particularly if they have checked their biases and prejudices at the door.
MUSIC NOTES—The elderly Civic Auditorium, which was more at home for boxing and basketball than orchestras, will get a much-needed
major renovation through multiple funding sources, presumably in response to Cabrillo's great success. Meanwhile, the festival has unfortunately discontinued its close-out concert at beautiful Mission San Juan Bautista an hour's drive away, citing the tight space, limited seating, and very resonant acoustics, which some deemed heaven, others not so much….After this month, Cabrillo will continue on a new course with a new maestro or maestra. Will the magic be sustained? Keep tuned…. Alsop will go on with her multiple orchestras, the Sao Paolo Symphony and Baltimore Symphony—and perhaps others too, maybe even some opera. She will also be conductor laureate of this festival in years ahead.
Cabrillo Festival of Contemporary music in its 54th year, Marin Alsop, retiring music director, at the Santa Cruz Civic Auditorium through Aug. 13.
With delayed radio rebroadcasts. For info: (831) 426-6966, or go online.
©Paul Hertelendy 2016
#
Paul Hertelendy has been covering the dance and modern-music scene in the San Francisco Bay Area with relish — and a certain amount of salsa — for years.
These critiques appearing weekly (or sometimes semi-weekly, but never weakly) will focus on dance and new musical creativity in performance, with forays into books (by authors of the region), theater and recordings by local artists as well.
#