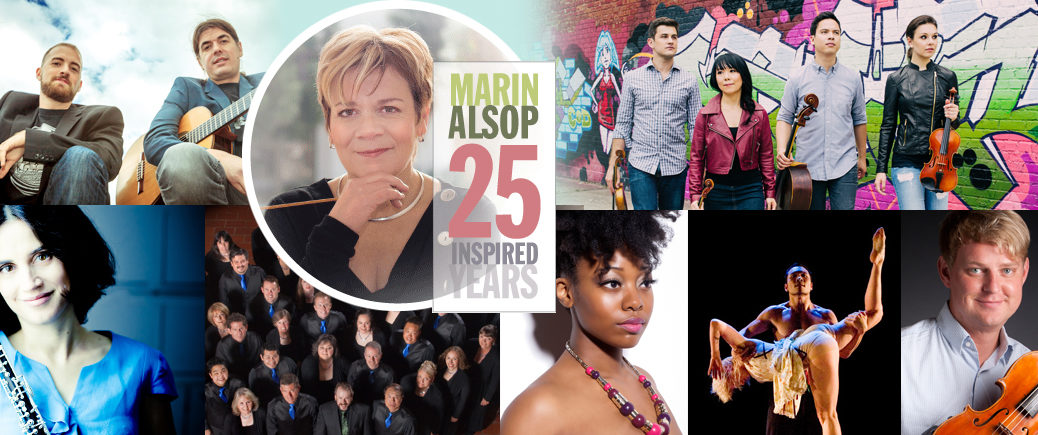 ALSOP LOVE-IN AT CABRILLO
ALSOP LOVE-IN AT CABRILLO
New Works by Adams et Al Resonate in Santa Cruz
By Paul Hertelendy 
artssf.com, the independent observer of San Francisco Bay Area music and dance 
Week of Aug. 6-13, 2016
Vol. 18, No. 83
SANTA CRUZ—Though her departure was still a week away, Cabrillo's Music Director Marin Alsop was given a farewell-love-in treatment in the concerts of Aug. 6. Rarely has a conductor been held in such high esteem by audience and players alike; to judge by the accolades and affection, her 25 years at the helm of the Cabrillo Music Festival here were not nearly enough.
As usual the orchestral concert was all contemporary, with the composers present to introduce their pieces, some of them household names. And the music was tonal, consonant, and quite digestible, characteristic of Alsop's longterm tastes. She's a whirlwind in conveying  rhythmic complexity. If she has a flaw—and I'm searching, searching here—it's a reluctance to let music flow langorously in rubato, beyond the confinement of strict meter.
Most remarkable of all was a John Adams premiere commisssioned by the festival musicians themselves—perhaps a first in music history. Adams' wet-ink score "Lola Montez Does the Spider Dance" will be part of his new  Gold-Rush opera "Girls of the Golden West" coming to the S.F. Opera in fall of 2017—a sneak preview, if you will.  It's an irreverent, jazzy scherzo based on  historical performances, with a wild solo by clarinetist John Schertle. Adams, himself a clarinetist,  was so captivated, he dashed over right after. He grabbed the astonished Schertle, grabbing also the clarinet and holding it high aloft in trumph, as though it were the king of all instruments.
At 27 minutes, Adams' "Absolute Jest" for orchestra and string quartet could be the world's longest Scherzo as it deconstructs Beethoven. Tiny fragments out of the "Grosse Fuge," mostly, are pushed through a hall of mirrors, but in such little shards that most would not notice the Beethoven tie. It offers frantic rhythms (as if tailor-made for Alsop), syncopation, and derisive trills on woodwinds and horns. It is less a flight of fancy than an uninhibited romp.
Young Michael Kropf's world premiere "Spinning Music" showed a natural composing talent in a well-crafted, rapid-fire exercise cramming into just six minutes. One could imagine dancers pirouetting through it. While San Franciscan Kropf, 25, was nervous talking to the crowd, he showed no uneasiness in his composition.
Kevin Puts' "The City" was a curious bit of musical split personality, with film. The first half  looked like a promotional  industrial film out of the 1930s, showing the industrial and construictive might of booming America, while the second half focused on citizenry torn by police shootings, apparently in his home bailiwick of Baltimore. Puts' music over the 24 minutes was restless, striving for the monumental, heightening the drama with acceleration, but a bit too glib for my taste.
The Festival orchestra, importing musicians from dozens of states,  is a very good one. The couple of out-of-tune blemishes merely showed the players to be human; they are certainly not green or frail.
MUSIC NOTES—As even the veteran composer Puts, 44, conceded at a panel earlier in the day, "There's a tremendous feeling of insecurity" at a premiere. Echoed Adams, "The first encounter with a piece (live) is a very jagged, difficult experience." And Kropf adds, "The first hearing is terrifying." All this because what's written on paper does not specify many aspects of the interpretation, leaving the rest to the conductor. "Conductors bring out things (you're not aware of). People realize something that we didn't know was there," per Adams, who seemed to welcome such insights.
When conducting, Adams admitted he had changed tempos of a work, responding to hall acoustics ("In a dry hall, it can just die.") Avoiding direct rehearsal clashes with a conductor doing his opus, Adams as composer has been known to tell the latter, with utmost tact, "Er…I think I wrote my tempo wrong (in the score). Maybe, do it half that fast?"
Cabrillo Festival of Contemporary Music, Santa Cruz Civic Auditorium,  through Aug. 13. Also delayed broadcasts on KAZU-FM. For info:  go online.
©Paul Hertelendy 2016
#
Paul Hertelendy has been covering the dance and modern-music scene in the San Francisco Bay Area with relish — and a certain amount of salsa — for years.
These critiques appearing weekly (or sometimes semi-weekly, but never weakly) will focus on dance and new musical creativity in performance, with forays into books (by authors of the region), theater and recordings by local artists as well.
#