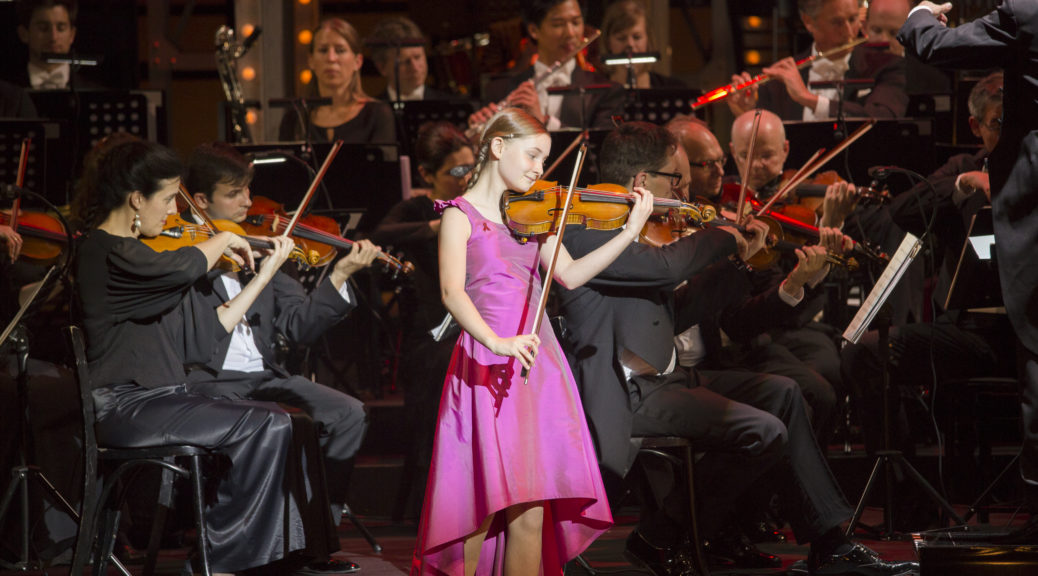 ALMA, 12, IN STRIKING U.S. DEBUT – Just Don't Call Her the 'New Mozart'
ALMA, 12, IN STRIKING U.S. DEBUT – Just Don't Call Her the 'New Mozart'
The latest 12-year-old Wunderkind and international sensation turned out to be a bubbly composer and a very mature violinist, setting off San Jose's two-week-long siege of Alma-mania being watched all over the country.
The slender-as-a-sylph English girl Alma Deutscher, five feet tall if that, has the stage presence of a Hollywood veteran. She smiles and sways throughout her performance as though standing before her bedroom mirror, totally uninhibited. She clearly loved every minute of music-making before a sell-out crowd, involving some fans who flew in from afar to attend her US concert debut here. She and her robust Guarneri del Gesu violin (yes, robust, carrying well to every nook and cranny) got repeated standing ovations at the California Theatre Dec. 3 from an audience that clearly found her to be cute, lovable, charming, professional and, more important, highly sensitive.
She has two distinct musical personalities, with the third, as a pianist, still to be heard and evaluated. As a composer she produces student symphonic works of little impact as she hones her craft and pours all her youthful sunniness into one piece after another. But as a violinist—stand back, she's already there!
With the Symphony Silicon Valley she played her own 37-minute Violin Concerto (2014-17), showing her prowess both as a performer and composer of challenging violin scores. Right off she showed herself a soulful classical interpreter with good dynamics and touching rubato (!) that can identify a mature artist. As she moves on to double stops, rapid runs and touches of virtuosity, she commands the medium like a pro. She produced an admirable cadenza (solo display segment), a nice fugue, and a lot of leaps across the fingerboard while maintaining excellent pitch. I never heard any one that young sound downright wistful, but she achieved it in the slow movement. Her style and texture lie somewhere between century-old English music—securely tonal and consonant—and Viennese music of the Fritz Kreisler era.
Only the composition of the finale disappointed, with its too-jolly, paper-thin skip-and-romp-through-the-park suggesting more the music hall than a proper finale. More drama, more use of the minor mode, more contrasts and more risk-taking would add much-needed variety to the opus.
In Alma's defense, let me say that the youngster suffers the incredible burden of being dubbed the "new Mozart" in media-speak. It's a taxing load for any one, doubly so for one not even a teenager. Given the right training while avoiding overexposure, a young musician can methodically best reach skills and maturity without the distractions of premature fame. Too many in the past have stumbled over such superlatives applied too young; for every Perlman, Mendelssohn, Schubert and Menuhin who makes it, there is another like Pierino Gamba or Erich Wolfgang Korngold who fails to achieve full artistic potential. Even in sports, precocious phenoms like Venus and Serena Williams were brought along slowly and deliberately, eventually becoming unforgettable champions of their medium.
Alma's Overture to her opera "Cinderella" (2015-17) was a tame stroll in the forest, a harmless melodious romantic piece in the soupy English tradition of a century or more ago, i.e., pre-Benjamin Britten. She has a gift for melody more than for complexity. The nine-minute curtain-raiser opens with string tremolos reminiscent of effects in "Hansel und Gretel." She is at home with the string section, but still struggling with the potential of woodwinds, brass and, overall, orchestration. But these might come with time.
What you have to like about Alma is her willingness to rework both of her compositions year by year as she undergoes new growth and new insights. Her appearance here marked her US debut both as soloist and as composer.
The program, also comprising works of Ginastera and Elgar, was conducted by the Marin Symphony's British-born conductor Alasdair Neale, who kept his cool despite all the in-house audience hoopla.
For the rest of the pre-Christmas period, the California Theatre and Opera San Jose will host a staged production of "Cinderella," which, like everything else Alma, sold out wall-to-wall as a result of her glowing interview last month on "60 Minutes" television. PS She is also a cool and fearless interviewee.
Never underestimate the remarkable little Miss Deutscher. Far more than a talented musician, she is a  charismatic girl whom people take unhesitatingly to heart. Consider that when Ms. Superstar  did her TV chat and violin play back East, instantly the San Jose ticket office lit up with East Coast enthusiasts dying to fly coast-to-coast to hear her play. How many classical artists young or old have that kind of gut-reaction fandom throwing all caution, budgets and schedules to the winds??
POST-ALMA NOTES—The Symphony Silicon Valley, now 17 years old, grew out of the shards of the San Jose Symphony founded some 140 years ago before foundering financially. The SSV is unusual in several regards: It is by choice devoid of a music director, led jointly by musicians and General Director Andrew Bales. It boasts a host of prime players who had come over from the old SJS, among them principals like Robin Mayforth, concertmaster; Randall Weiss, Patricia Whaley, Mimi Carlson, Pamela Hakl, Michael Corner, Deborah Kramer, Jim Dooley, Tony Clements, Robert Erlebach, Dan Levitan and Galen Lemmon. Such amazing stability speaks well of high institutional morale.
Symphony Silicon Valley, Alasdair Neale guest conductor, in U.S. debut program of Alma Deutscher (2), also with Ginastera and Elgar, Dec. 2-3, sold out. California Theatre, San Jose. For SSV info: (408) 286-2600 or go online.
—SAN JOSE, CA