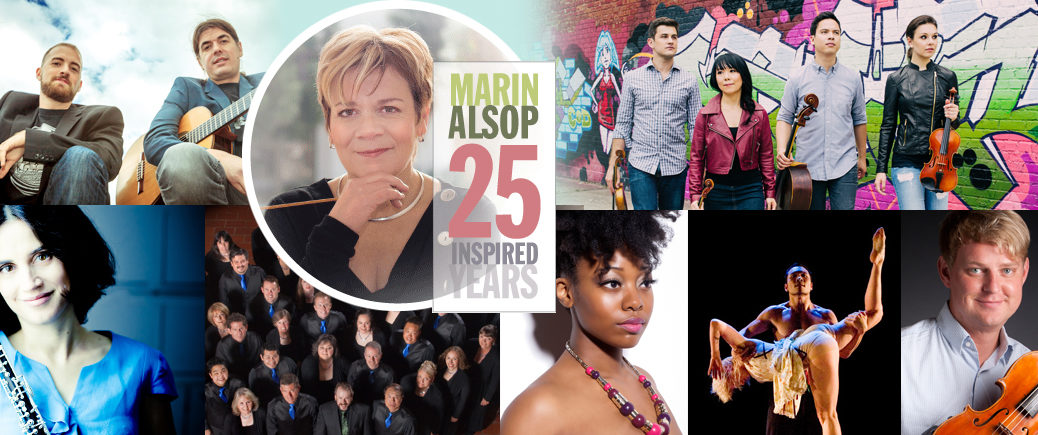 A UNIQUE, EMPTY-PODIUM TRIBUTE
A UNIQUE, EMPTY-PODIUM TRIBUTE
Again, Cabrillo Does It its Own Way
By D. Rane Danubian
artssf.com, the independent observer of San Francisco Bay Area music and dance 
Week of Aug. 15-22,  2016
Vol. 18, No. 85
SANTA CRUZ—The high affection of the Cabrillo orchestra members for outgoing conductor Marin Alsop resulted in a tribute probably unique since the days of Napoleon. They commissioned composer Kevin Puts to write a piece for her, to be played with an empty podium.
Puts' "Last August," to mark both her impact and imminent departure, was a highly lyrical five-minute opus where there was no central guidance, apart from covert peeks at the violin bow of Concertmaster Justin Bruns. The ensemble held to it perfectly at the Aug. 13 grand finale, bringing out the recurrent five-note theme that said to me, simplicity is profundity. And quite possibly (under a less specific title, say, like "Adieux"), other well-disciplined orchestras might use it too.
Ms. Alsop watched the whole affair at the Aug. 13 festival finale from a plush audience seat. She was so moved, her voice nearly broke in her verbal response.
Alsop chose to go out with a whimper not a bang, ending her 25-year podium tenure here with one of our most somber statements, John Corigliano's Symphony No. 1 (1988), dwelling on the tragedies of AIDS and its victims. This is a violent, searing 25-minute work in the Sturm-und-Drang tradition of effusive romanticism.
Here I must take back my earlier contention that Alsop avoids stretching phrases emotionally, rubato style. She did it effectively in Corigliano, bringing it out as one of the most important and compelling of all American symphonies. It's a complex piece by a composer clearly shattered by the AIDS epidemic and losses, calling for many added players (seven French horns, seven percussionists, etc.) and, figuratively, a lot of blood, sweat and tears.
In between came two works from South America. Osvaldo Goilov's cantata "Oceana" was a 21st-century piece patterned after Bach, with poetry by Pablo Neruda, all in a Latino way. The lilting, sensual solos by singer Alicia Olatuja, who had also sung at the 2012 U.S. presidential inauguration, conjured up a palm-fringed shore of the sea, simply accompanied by guitars and flutes, no more. Olatuja's role was partly wordless, partly Neruda-texts, partly scat singing, partly rhythms of Brazilian dance. The orchestra entered alternately with the 40 chorale singers of San Jose's Choral Project, who seemed a bit underpowered for the expanse of the S.C. Civic Auditorium.
The dual influences of Villa-Lobos and Brazilian indigenous people were paramount in Marlos Nobre's brief "Kabbalah," which Alsop is conducting right about NOW with her other regular ensemble, the Sao Paolo (Brazil) Symphony. Full of booming drumming and "Rite of Spring" textures, its heavy emotional makeup, wih pronounced brass and percussion, should fit the exuberance and emotion of post-Olympic Brazil.
AFTERMATHS—The 53-year-old festival has a search underway for Alsop's successor—hard shoes to fill, whether high-heeled, dress, or sandaled….May had marked the passing of Maestro Gustav Meier, 76, who had headed the Cabrillo young conductors' workshop for 14 years. He had been conducting teacher of Alsop, along with Leonard Bernstein…. A born and bred New Yorker, Alsop continues to lead the Baltimore Symphony in addition to guesting with orchestras in Europe. The only symphony conductor who has ever received a MacArthur ("genius") Award, she is henceforth Cabrillo's conductor leaureate—which implies occasional future Santa Cruz engagements.
Cabrillo Festival of Contemporary Music, Santa Cruz Civic Auditorium, Marin Alsop, music diredctor, through Aug. 13. Also delayed broadcasts on KAZU-FM. For info:  go online.
©D. Rane Danubian 2016
#
D. Rane Danubian has been covering the dance and modern-music scene in the San Francisco Bay Area with relish — and a certain amount of salsa — for years.
These critiques appearing weekly (or sometimes semi-weekly, but never weakly) will focus on dance and new musical creativity in performance, with forays into books (by authors of the region), theater and recordings by local artists as well.
#