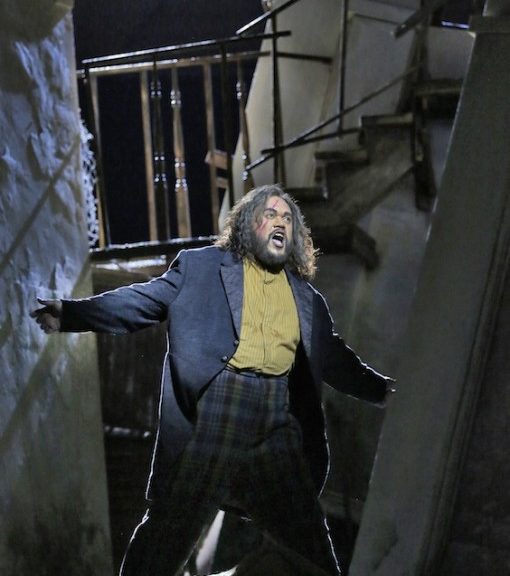 A 'RIGOLETTO' TO DIE FOR
A 'RIGOLETTO' TO DIE FOR
Superlative Interactions of Jester, Daughter
By Paul Hertelendy
artssf.com, the independent observer of San Francisco Bay Area music and dance
Week of Aug. 7-14, 2015
Vol. 18, No. 7
SANTA FE, NM—If "most unique" were a term usable by any one apart from hucksters, you'd have to apply it to the Santa Fe (summer) Opera, now in its 59th season.
On a desert hilltop 7,000 feet above sea level with sweeping views of mountains, it has an indoor-outdoor theater roofed over, but open to the sides where the breezes blow. Despite occasional thunderstorms and temperature variations, the 2,200-seat house attracts the faithful in large numbers over two months every year, some 40 performances of five operas.
The special cachet is the generous rehearsal time allotted to the performers, far above the norm for major companies. This allows stage directors time to focus on fine-tuned theater and acting, eliminating vocalists more accustomed to just mailing it in. There is ample star vocal power, too, with 2016 to feature Patricia Racette, Susan Graham and Leah Crocetto.
The fine-tuning was nowhere more evident than in Verdi's "Rigoletto," with the most moving pairing I've ever encountered with about 15 productions lifetime. Despite a flawed production, the interplay of the deeply loving, deeply troubled jester with his daughter Gilda was heart-rending to the core, and his profound affection was palpable. This from a superlative Rigoletto, the Hawaiian baritone Quinn Kelsey, essaying the jester role for the first time. The brutal staging spotlighted an old, flabby, obese body, further contrasting with the daughter (Georgia Jarman), a beauty who also sang an exquisite "Caro nome." Kelsey's fury at the corrupt overlords ("Cortigiani, vil razza danada") and his desperate contrasts of vile revenge and boundless affection were unforgettable, accelerated by Stage Director Lee Blakeley and newcomer conductor Jader Bignamini, both talents to watch.
The producers and designers played their usual games. The setting was moved from the Renaisssance to the 19th century, and Rigoletto's hunched back became instead a club foot (conflicting with the libretto). The sets were rickety and teardown-worthy; the meager stage lighting suggested that the SFO had neglected to pay its electric bills this summer.
Verdi's opera "Rigoletto," in Italian, with projected translations, at the Santa Fe (NM) Opera. Three hours, one intermission. For info: (505) 986-5900, or go online.
©Paul Hertelendy 2015
#
Paul Hertelendy has been covering the dance and modern-music scene in the San Francisco Bay Area with relish — and a certain amount of salsa — for years.
These critiques appearing weekly (or sometimes semi-weekly, but never weakly) will focus on dance and new musical creativity in performance, with forays into books (by authors of the region), theater and recordings by local artists as well.
#