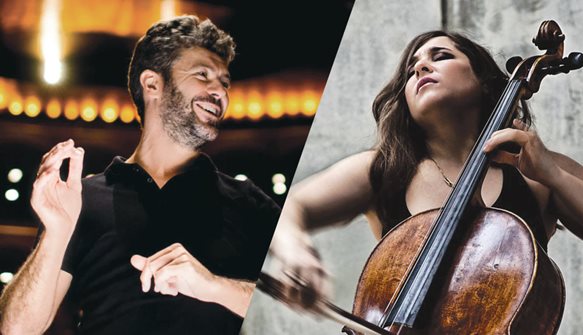 A DYNAMO OF A CELLIST
A DYNAMO OF A CELLIST
Alisa Weilerstein Shares Stage with Heras-Casado
Stemming from a distinguished musical family, Alisa Weilerstein seems determined to be the dynamo of the younger performing generation. Last week back east she squeezed two recitals into one, playing all six unaccompanied Bach suites for cello in one intensive three-hour swoop, a feat that could leave both audience and performer in a sweat-drenched tingle.
With the San Francisco Symphony in a more subdued mode, she played the Schumann cello Concerto in A Minor on Oct. 22. This too is demanding though briefer, with the cello soloist playing almost nonstop. It's one of Schumann's unusually reflective and introspective pieces, bent less on fireworks than romantic lyricism. Its soulfulness is hard to resist.
When Weilerstein, 34, plays, it's not just music, it's music-theater. I'd pay for a close-up video of her many facial expressions, precisely matching each musical phrase she is playing, whether jocular, emotional, haughty or thought-provoking. How refreshing, in this formal situation, to see her lick her fingers before placing them securely on the strings! She mastered the many hurdles of the 23-minute opus, even those massive high-low jumps of a couple of octaves in the opening. The nimble fingers and precise intonation did the rest, assuring a standing ovation by the Davies Hall fans.
The fast-rising Spanish guest conductor, Pablo Heras-Casado, etched a strong personality in leading another romantic   work, the Dvorak Symphony No. 7, which is an even   bolder, larger-scale statement by a composer showing some influences of Brahms' orchestrations. But the thematic content was quite original. With the dashing Heras-Casado, it's all about skillful dynamics in many shades, and enough warmth to heat up an ocean. This was not about a hearing, it was about an experience. The conductor is the master of the pillowy pianissimos   as much as precise, gorgeous (and splashy) climaxes. In the finale he led us into dark caves and then neatly brought us out into blazing sunshine. Given the superior play by the orchestra and its salient soloists, it was hard not to be swept along with the inexorable current.
The many-shaded dynamics also illuminated the 18 th -century Mozart Symphony No. 29, where the string basses happily showed not tubbiness but rather deft tones and nimble runs. The witty 18-year-old Mozart showed surprising touches in what you could call his first fully mature symphony, with an unorthodox minuet, and a finale that suggests, deceptively, that a copyist left out a couple of lines. Not the case!
These San Francisco Symphony concerts given at Davies Symphony Hall, S.F. For info: (415) 864-6000, or go  online. Broadcasts on KDFC-FM (90.3 and others) at 8 p.m. on the second Tuesday following.
©D. Rane Danubian 2016
#
D. Rane Danubian has been covering the dance and modern-music scene in the San Francisco Bay Area with relish — and a certain amount of salsa — for years.
These critiques appearing weekly (or sometimes semi-weekly, but never weakly) will focus on dance and new musical creativity in performance, with forays into books (by authors of the region), theater and recordings by local artists as well.
#