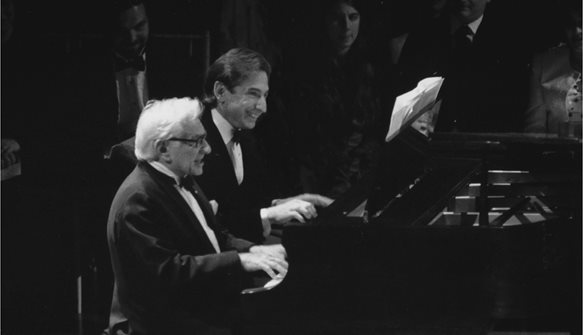 MTT Pays Cool Tribute to Bernstein
MTT Pays Cool Tribute to Bernstein
His Prolific Mentor's Centennial
Michael Tilson Thomas showed incredible composure leading a program of music by his longtime mentor, Leonard Bernstein, commemorating the latter's 100th birthday.
When many lesser conductors might have melted completely with the first bars, MTT kept at it, dry-eyed, even in pieces where he had shared duo-piano duties with Bernstein himself, just a couple of years before the latter's death in 1990.
Spanning five decades of Bernstein's creative life, the works included two of his most popular works—Symphonic Dances from "West Side Story," and the "Chichester Psalms"—and some early and late rarities, performed by the San Francisco Symphony. What composer in history has shown this kind of versatility, with cathedral music, hit Broadway musicals, jazz bits and quasi-operatic scenelets roaming over several languages, in addition to running orchestras?
The focus fell on the late "Arias and Barcarolles," a theater piece for the concert hall on family life, some of it drawn from Bernstein's own recollection. It's a light but vivid entertainment, with a husband-wife pair sparring with each other in a detached way. It shines a stronger spotlight on his upbringing and private life than most biographies. The orchestration, added posthumously by Bruce Coughlin, is understated, keeping the focus on the vocal protagonists. The vocalists playing a married pair were a study in contrasting personalities: An unflappable, restrained and lyrical Isabel Leonard opposite the edgy, high-strung persona of bass-baritone Ryan McKinny. Texts are in English and Yiddish.
The rarely head "Prelude, Fugue and Riffs" (1949) was Bernstein's foray into hot jazz, showing off the SFS' mighty brass section, all antsy, in-your-face and insistent, with enough syncopation to last you through a drought or two.
A little of that catchy syncopation filters over into the choral-orchestral "Chichester Psalms" (1965), with texts in Hebrew from five psalms—an apt choice, coming the day after Rosh Hashanah. The big challenge her is neither the choral Hebrew nor the chromaticism: It's a large solo given to a boy singer whose voice has not yet changed. Nicholas Hu brought it off effortlessly from memory.
MTT's artfully assembled program ended with the crowd-pleasing "West Side Story" excerpts, full of sharp accents, memorable tunes, and musicians doing double-duty snapping fingers and exclaiming "Mambo!" They seemed to enjoy it as much as the Davies Hall audience when heard Sept. 22.
MUSIC NOTES— During the week to follow, mezzo Leonard is featured in a recital presented by San Francisco Performances….McKinny returns across the street at the Opera House for the world premiere of John Adams' "Girls of the Golden West" in November.… Prior to the orchestration, "Arias and Barcarolles" had featured piano-four-hands accompaniment by MTT and Bernstein….The one who lost his voice on concert night was not MTT but rather the SFS' new executive director Mark Hanson, whose voice abruptly vanished in mid-sentence when he introduced himself before the concert.
San Francisco Symphony under MTT's baton in all-Bernstein program, Sept. 22-24, Davies Hall, S.F. For info: (415) 864-6000, or go online.